By Ed Rollins
CNN Senior Political Contributor





Editor's note: Ed Rollins, a senior political contributor for CNN, is senior presidential fellow at the Kalikow Center for the Study of the American Presidency at Hofstra University. He was White House political director for President Reagan and chairman of the National Republican Congressional Committee.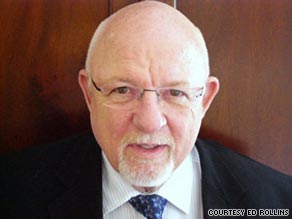 Ed Rollins says opposition to health care reform is about the substance, not the president's race.
NEW YORK (CNN) -- President Obama is about to undertake a full-scale blitz of all the Sunday talk shows to try to convince the American people one more time of the merits of his health care plan.
This is after he has spoken on the subject publicly more than 100 times and after he just gave a nationwide speech before the Congress and the country.
I know this is his highest priority, but what else can he say to turn around the nearly half the country that doesn't want his health care plan? And if he told us honestly that the plan he and the Democrats are proposing could cost you more and cut services for those on Medicare, even more people would be opposed.
This is now an inside game. There are House versions and a Senate version of the reform bill. It's a question of how do you get them passed and get them to a conference committee to work out the differences.
The fight is no longer out in the country. The country is divided almost equally on this issue. And in spite of former President Jimmy Carter's absurd comments this week that much of the public opposition to President Obama is about racism, I can only say to the former president, "Please, Mr. President; think before you speak."
Obama's campaign and election last November in which he got the largest vote any Democrat received since Lyndon Johnson in 1964 was a milestone that made many Americans proud -- whether they were white or black or even voted for him.
Don't Miss
Equally important, he defeated one of America's most courageous heroes, John McCain by nearly 9.5 million votes. Every day the American public gets to see this beautiful family in the White House, it appreciates them and relates to them as much as you can to any first family.
Opposition to policies and questions about leadership are legitimate issues. When someone like our new president -- or President Carter himself -- is elected without being widely known by the public before the presidential campaign, opinions can change once in office.
In President Carter's case, his term in office led to him being disliked by the public, challenged by the late Sen. Edward Kennedy for renomination and defeated for re-election in an Electoral College landslide.
People still like Obama personally and will support or fight his policies as we move on. And move on we must.
If the president wants health care for those who don't have it and even for those who don't want to pay for it, he has to go work the halls of Congress and get his own team in line. Republicans are not playing in this game. This is a massive entitlement program that could add billions and probably trillions to the federal deficit.
Government-ordered mandates for individuals to have insurance and business owners to provide it -- or pay a severe fine -- is setting new precedent. Who knows what gets mandated next? Just ask the nation's governors what federally mandated unfunded programs have done to their financial status.
In the end, this trillion-dollar plan is going to be paid for by exacting more money from those who do have coverage and eliminating services from the elderly who are on Medicare. If it passes, let's see how happy Americans will be in 10 years.
In the meantime, I think there are other things on which this president needs to be focused.
In spite of what Fed Chairman Ben Bernanke is saying, this economy has got a long way to go before we are on our way to recovery. What are we doing to create jobs? Wall Street may be getting its bonuses back, but when is the little guy going to get his job and security back?
No matter what the Pentagon is saying, we have got a long way to go before we can peacefully withdraw our troops from Iraq. How safe is a place like Iraq when the vice president cannot even sneak into the country unannounced without being rocket bombed as a "goodnight kiss."
Vice President Joe Biden had hardly got the words out of his mouth: "I am here to listen," then four mortar shells landed within hundreds of feet from the heavily fortified Green Zone complex where he was staying.
And then the debate on "the good war" -- President Obama's view of the conflict in Afghanistan -- is really about to heat up. In a hearing on Tuesday for the nomination for a second term as chairman of the Joint Chiefs, Adm. Mike Mullen was forced to engage aggressively with the committee's Democrats over the need for more troops.
The Pentagon hasn't even asked for more troops, but I am sure they will be needed. On a daily basis, important Democrats are speaking out against additional troops or funding for this war we've been fighting at different levels since 2001.
Sen. Carl Levin, chairman of the Senate Armed Services Committee, has expressed his doubts about the mission, as has Sen. Dianne Feinstein, who chairs the Senate Intelligence Committee. And, of course, perennial anti-military House Speaker Nancy Pelosi has expressed her concerns repeatedly
For a president who ran as an anti-war candidate, the battle on Afghanistan will be fierce, and he will need every one of those Republicans now being chastised for not supporting the health care bill. iReport.com: Share your thoughts on race and politics
My only advice to the president is do what you think is right on health care and don't get so overexposed on television that we treat you like an old rerun of Jay Leno's "Tonight Show," which now we can see every night in prime time. I guess we also see you just about every night in prime time, too!
The opinions expressed in this commentary are solely those of Ed Rollins.

E-mail to a friend

All About Barack Obama • Jimmy Carter • Afghanistan War