COLLEGE PARK, Maryland (CNN) -- President Obama took his health care reform message back on the road Thursday, promising a raucous crowd of college students that Congress will pass legislation this year.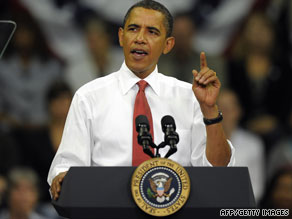 "I will not accept the status quo as a solution," President Obama said Thursday.
"We will get this done," he said at a campaign-style rally at the University of Maryland. "In the United States, nobody should go broke because they get sick."
The president slammed GOP critics for attacking his reform plan to "score short-term political points." Some Republicans "want to kill Obamacare," he said, but their solutions "amount to the same old, same old. ... I will not accept the status quo as a solution."
This "is when the special interests gear up" and spread distortions, he warned.
Obama has increasingly tapped the "bully pulpit" power of the presidency in recent weeks to spark new momentum for his No. 1 domestic priority.
Obama's remarks came a day after the powerful chairman of the Senate Finance Committee unveiled his long-awaited compromise health care plan.
Montana Sen. Max Baucus' proposal would cost $774 billion over 10 years while reducing the federal deficit by $49 billion, according to the nonpartisan Congressional Budget Office.
The plan would require all Americans to have health insurance but lacks a government-run public health insurance option favored by Obama and most Democrats.

Learn more about the various proposals »
Don't Miss
The budget office review estimated that the proposal would leave 25 million people uninsured by 2019, about a third of them illegal immigrants, compared with 46 million people currently without health care coverage.
The plan came under immediate criticism from Republicans, including three members of Baucus' Finance Committee who participated in months of negotiations with him and two other committee Democrats. Some liberal Democrats also dislike it for dropping the public insurance option.
The White House, however, welcomed the plan as a step forward in the health care debate.
Baucus called it a pragmatic proposal with a realistic chance of passing the Senate and noted its similarity to a framework for health care legislation laid out by Obama during his speech to Congress last week.
"I think it's clear that we've struck something that's fairly close to the middle. It's balanced, evenhanded, everybody's looking at it, and no one's outraged," he said on Capitol Hill on Thursday.
"There's a little grumbling around all the edges, but ... it feels like we're on track to come up with legislation that at least makes sense."

Watch how Baucus' version would help students »
Baucus said there is "no doubt" in his mind that Democrats and some Republicans want to vote for a health care bill that ultimately passes.
Also Thursday, a bipartisan group of moderate senators including Republican Olympia Snowe of Maine, one of the six Finance Committee negotiators with Baucus, called his proposal a good start.
"Each of us has an obligation to put aside partisan views and to consider how health care reform addresses the needs and challenges faced by individual citizens and our economy as a whole," said the statement by Snowe and Democrats Ben Nelson of Nebraska and Claire McCaskill of Missouri, and independent Joe Lieberman of Connecticut. "While we each have outstanding concerns we wish to see addressed, Sen. Baucus has taken an important and critical step forward with this legislation."
The Senate Finance Committee is the last of five congressional committees needed to approve health care proposals before the topic can be taken up by both the full Senate and the full House of Representatives.
Various forms of the legislation proposed by Democrats have cleared three House committees as well as the Senate Health, Education, Labor and Pensions Committee.
The question of whether to push for a government-run public health insurance option remains a key sticking point not only between Democrats and Republicans but within the Democratic caucus.
"I fully support a public option," House Speaker Nancy Pelosi said Thursday. "A public option will be in the bill that passes the House of Representatives."

On Wednesday, Baucus called the compromise he proposed a pragmatic plan with a realistic chance of passing the Senate, rather than something favored by one side or the other.
"This package may not represent all of our first choices," he said, "[but] this is a good bill. It is a balanced bill. It can pass the Senate."
E-mail to a friend

All About Health Care Policy • Barack Obama • Max Baucus