WASHINGTON (CNN) -- The Obama administration announced a $25 million medical malpractice initiative Thursday as part of its plan to rein in skyrocketing health care costs.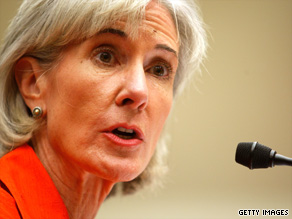 HHS Secretary Kathleen Sebelius says 1 percent of health care costs are attributable to malpractive premiums.
The program, administered by the Department of Health and Human Services, will fund grants of up to $3 million awarded on a competitive basis to states and health care systems for implementing and evaluating "patient safety and medical liability demonstrations," according to a release from the White House.
A review of current malpractice reform initiatives will be completed by December, the White House said, and used to evaluate future grant applications.
The announcement is a nod to conservatives who have emphasized the role of malpractice lawsuits in rising health care costs.
President Obama backed the idea of support for demonstration projects on a state level -- originally considered by former President George W. Bush's administration -- during his September 9 health care address to Congress.
"I don't believe malpractice is a silver bullet, but I've talked to enough doctors to know that defensive medicine may be contributing to unnecessary costs," Obama said at the time.
Don't Miss
"Many physicians continue to struggle to pay their medical malpractice premiums," the president noted in a presidential memorandum released Thursday. Liability reform should be "one part of broader health insurance reform."
Approximately 1 percent of overall health care costs nationwide are attributable to malpractice premiums, Health and Human Services Secretary Kathleen Sebelius told reporters at the White House. It is unclear how much money could be saved by the elimination of unnecessary tests conducted due to a fear of lawsuits, she said.
One prominent organization representing attorneys had a decidedly cool reaction to the announcement.
Forty-six "states have already enacted tort reform and health care costs continue to hurt the pocketbooks of American families. Because of these tort reforms, patients injured through no fault of their own are often unable to seek justice," said Anthony Tarricone, head of the American Association for Justice.
"It is critical that these demonstration projects preserve Americans' ... right to a trial by jury. The details matter significantly, but any efforts to limit patients' rights are not acceptable."
E-mail to a friend

All About Health Care Policy • Health Care Costs