WASHINGTON (CNN) -- A House ethics panel said it is investigating allegations against three lawmakers, including Rep. Jesse Jackson Jr.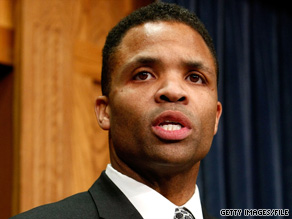 Rep. Jesse Jackson Jr., D-Illinois, earlier said he's "eager to answer any questions" in the House ethics probe.
Jackson allegedly launched a "public campaign" to be appointed to President Obama's former Senate seat in Illinois.
But the Justice Department asked the panel defer investigating the matter because of a criminal indictment against ex-Illinois Gov. Rod Blagojevich and its investigation into "the facts surrounding Rod Blagojevich's consideration of multiple candidates to fill the Senate seat," the House ethics panel said in its statement.
Because of that request, the investigation will be deferred, the statement said, but "the committee will continue to monitor the situation and will consider pursuing avenues of inquiry that it concludes do not interfere with the activities of the Department of Justice."
The preliminary investigation into Jackson's activities by the Office of Congressional Ethics became known in April.
At the time, Jackson, a Democrat, issued a statement saying he was cooperating and was "eager to answer any questions and provide any information to the OCE about my actions related to last year's vacant Senate seat."
In a statement Tuesday, the Committee on Standards of Official Conduct said it had received a referral on the matter from the ethics office.
Transcripts of recordings from Blagojevich "contain statements that an 'emissary' from Representative Jackson had offered to raise money for Blagojevich and provide 'money up-front' if Blagojevich nominated Representative Jackson to the [U.S.] Senate seat vacated by President Obama," the ethics office report said.
"If this 'emissary' acted either at the direction of Representative Jackson or with his knowledge and acquiescence, Representative Jackson may have violated federal law and House rules."
The other two lawmakers are Reps. Maxine Waters, D-California, and Sam Graves, R-Missouri. The committee issued separate statements for each of them. The statements do not disclose the allegations under investigation.
The House created the Office of Congressional Ethics in March 2008 to screen cases of potential improper conduct by representatives. A board of six members, who are outside experts, meets monthly to review issues and votes on whether to recommend that the Committee on Standards of Official Conduct launch a formal investigation. The committee then decides whether to take up the matter.
Blagojevich earlier this year was impeached and removed from office. He has pleaded not guilty to federal corruption charges. A federal grand jury in April indicted him on 16 felony counts including racketeering, conspiracy, wire fraud and making false statements to investigators.
Democratic leaders had urged Blagojevich not to appoint anyone to Obama's vacant seat. He disregarded their counsel and named Roland Burris, a former state attorney general and state comptroller, to the seat.
Democratic senators grudgingly recognized him as the junior senator from Illinois, but Burris still faced an investigation and scrutiny at the same time he was trying to learn the ropes on Capitol Hill.
In June, the state's attorney in Sangamon County, Illinois, said he would not charge Burris with perjury in connection with his testimony on Blagojevich's alleged "pay for play" scheme to fill the Senate seat. John Schmidt, the state's attorney, said Burris gave incomplete but truthful answers to questions about his conversations with Blagojevich's representatives.
In July, Burris said he would not run for a full six-year term in 2010.
The indictment against Blagojevich also named Christopher Kelly, his chief fundraiser. Kelly, 51, died Saturday at a hospital. Officials have said his death is under investigation as a suicide.
E-mail to a friend

All About Jesse Jackson Jr. • Rod Blagojevich