By Kristi Keck
CNN





(CNN) -- As support for the war in Afghanistan dips to an all-time low, some leading lawmakers are questioning President Obama's approach to what he calls a "war of necessity."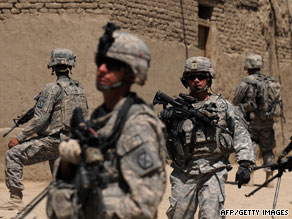 Just 39 percent of Americans support the war in Afghanistan. Fifty-eight percent oppose the mission.
Just 39 percent of Americans favor the war in Afghanistan compared to 58 percent who oppose it, according to a national CNN/Opinion Research Corp. survey released Tuesday.
The poll follows the two deadliest months for the U.S. military in Afghanistan. In August, 48 U.S. troops were killed in the fighting, surpassing the previous high of 45 in July.
The Afghan war is now almost as unpopular as the Iraq war has become in recent years.

See the drop in support »
"[The Obama administration] inherited the perception that Afghanistan was the good war, and they took over largely bipartisan support of it, and by the summer they lost that," said David Isby, a Washington-based defense and foreign policy consultant. "Now we are seeing Obama's very own party is very much starting to turn against him on it, and he will have to depend on the Republicans who neither like nor trust him for support."
The United States now has about 62,000 U.S. troops in the country, and NATO allies have another 35,000. The Pentagon is planning to add 6,000 troops by the end of the year.
There have been indications that Obama soon could be asked to commit even more American troops. Defense Secretary Robert Gates, however, has signaled he would like to gauge the impact of the 6,000-troop increase before considering whether to send more.
Some Democrats and Republicans have questioned escalating forces. Speaker of the House Nancy Pelosi, D-California, said last week that she doesn't think "there's a great deal of support for sending more troops to Afghanistan in the country or in the Congress," and Sen. Susan Collins, R-Maine, told CNN that after spending time in Afghanistan last month, "I just don't know that more troops is the answer."
The White House said that as the president reassesses the situation in Afghanistan, any decisions will be based on what he thinks is best for national security.
Gen. Stanley McChrystal, the top U.S. commander in Afghanistan, last month submitted a long-awaited report on the state of the war in Afghanistan. He said that while the war is winnable, a new strategy is needed to accomplish Obama's goal of dismantling al Qaeda.
Isby said going ahead, Obama needs to explain to the public what's at stake, noting that "aside from his one 'war of necessity' speech -- the Obama administration has not demonstrated much time in trying to raise commitment or support for their Afghanistan policy."
The debate over bolstering resources in Afghanistan took center stage Tuesday when Adm. Michael Mullen appeared before the Senate Armed Services Committee for a hearing to serve a second term as chairman of the Joint Chiefs of Staff.
In his opening statement, the chairman of the committee, Sen. Carl Levin, D-Michigan, reiterated his belief that the United States should first try to increase the number of Afghan troops and push allies to add trainers to do so, before considering adding more U.S. troops.
Sen. John McCain, R-Arizona, the top Republican on the committee, used his opening statement to rebut Levin's idea, saying he strongly disagrees with Levin's "wait and see recommendation."
"I believe that this position would repeat the nearly catastrophic mistakes of Iraq and significantly set back the vital war effort in Afghanistan," McCain said.
Mullen, who considers Afghanistan the "epicenter of terrorism right now," said that no further request for forces has been made yet by McChrystal, beyond the 21,000 already approved by Obama earlier this year.
McCain pressed hard on why no recommendation had been made for more troops. Mullen said he expected such a request soon, noting McChrystal is "alarmed by the insurgency."
Asked about concerns that he could experience the same fate of President Lyndon B. Johnson, who decided against seeking re-election due to the public's turning against the war in Vietnam, Obama told The New York Times and CNBC, "You have to learn lessons from history. On the other hand, each historical moment is different. You never step into the same river twice.
"And so Afghanistan is not Vietnam, but the dangers of overreach and not having clear goals and not having strong support from the American people -- those are all issues that I think about all the time."

Isby said while polls shouldn't shape strategy, they also shouldn't be ignored.
"Even Abraham Lincoln had to run the Civil War with elections in mind. That's part of democracy," he said. "Polls don't get to make strategy, but you are stupid and counterproductive if you don't pay attention to it."
E-mail to a friend

CNN's Adam Levine, Barbara Starr and Paul Steinhauser contributed to this report.
All About Afghanistan War • Barack Obama