NEW YORK (CNN) -- President Obama said Monday that the need for the federal government to help prop up the nation's hard-hit financial system is fading.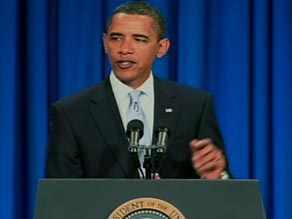 President Obama says he wants to end the idea that some firms are "too big to fail."
"While there continues to be a need for government involvement to stabilize the financial system, that necessity is waning," he told an audience of key financial and political leaders at New York's famed Federal Hall on Wall Street.
"After months in which public dollars were flowing into our financial system, we are finally beginning to see money flowing back to taxpayers."
Obama noted that although taxpayers won't necessarily "escape the worst financial crisis in decades entirely unscathed," banks have repaid more than $70 billion in government bailout funds.
He called for the closure of regulatory loopholes that contributed to the current financial crisis.
"We've got to close the loopholes that were at the heart of the crisis. Where there were gaps in the rules, regulators lacked the authority to take action," he said.
This weakness "in oversight engendered systematic, and systemic, abuse."
The president said that, while "holding the Federal Reserve fully accountable for regulation of the largest, most interconnected firms, we'll create an oversight council to bring together regulators from across markets to share information, to identify gaps in regulation, and to tackle issues that don't fit neatly into an organizational chart."
Obama noted that, under his plan, "we'll also require these financial firms to meet stronger capital and liquidity requirements and observe greater constraints on their risky behavior."
Don't Miss
The only way to avoid a repeat of the financial crisis, he said, "is to ensure that large firms can't take risks that threaten our entire financial system and to make sure they have the resources to weather even the worst of economic storms."
Obama said he is proposing creating "resolution authority" in the event that a failure of a particularly large financial firm threatens the stability of the financial system.
"This is intended to put an end to the idea that some firms are 'too big to fail,' " he said.
"For a market to function, those who invest and lend in that market must believe that their money is actually at risk. And the system as a whole isn't safe until it is safe from the failure of any individual institution."
The president also called for the creation of a "Consumer Financial Protection Agency" to help protect consumers and enforce new rules governing the nation's financial system.
Right now, Obama noted, "there is no single agency charged" with doing so. "That is what we'll change," he said.
The new agency, he noted, "will have the power to make certain that consumers get information that is clear and concise, and to prevent the worst kinds of abuses. Consumers shouldn't have to worry about loan contracts designed to be unintelligible, hidden fees attached to their mortgages, and financial penalties -- whether through a credit card or debit card -- that appear without warning on their statements."
The president urged closer international cooperation both to contain the current financial crisis and prevent it from repeating in the future.
"We need to close the [regulatory] gaps that exist not just within this country but among countries," he said.
"We know that abuses in financial markets anywhere can have an impact everywhere. ... Just as gaps in domestic regulation lead to a race to the bottom, so too do gaps in regulation around the world. Instead, we need a global race to the top, including stronger capital standards."
Obama noted that he will push for new measures at next week's Group of 20 economic meeting in Pittsburgh, Pennsylvania.
E-mail to a friend

All About Barack Obama • National Economy