(CNN) -- Jody Powell, who served as press secretary for President Jimmy Carter, has died, a spokesman for the Carter Center said. He was 65.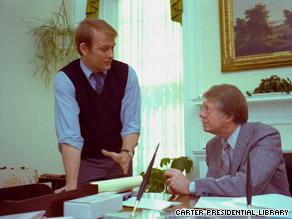 Former White House Press Secretary Jody Powell died Monday.
Powell, who served in the Carter administration from 1977 to 1981, died Monday of an apparent heart attack, Carter Center spokesman Tony Clark told CNN.
Carter said he and former first lady Rosalynn Carter "share a great personal loss today in the passing of Jody Powell."
"From the time he began, as a young graduate student, as my volunteer driver during my 1970 run for governor, no one worked more closely with me than Jody," the former president and former governor of Georgia said in a statement.
"Jody was beside me in every decision I made as a candidate, governor, and president, and I could always depend on his advice and counsel being candid and direct."
Robert Gibbs, press secretary to President Barack Obama, said he was "deeply saddened to hear about the passing of Jody Powell."
"As press secretary to President Carter, Jody served his country during a difficult time, and he always did the job with grace and good humor," Gibbs said in a statement.
"When I needed advice at the start of my own tenure as press secretary, he was always generous with his time and wise in his counsel. I'll miss his support and encouragement, and I'll be keeping him and his family in my thoughts and prayers," he said.
After his press secretary stint under Carter, Powell headed a Washington public relations firm, Powell-Tate, partnering with Nancy Reagan's former press secretary, Sheila Tate.
E-mail to a friend

All About Jimmy Carter