By Leo Hindery Jr., Leo W. Gerard and Donald Riegle Jr.
Special to CNN





Editor's note: Leo Hindery Jr. is chairman of the Smart Globalization Initiative at the New America Foundation and an investor in media companies. Leo W. Gerard is international president of the United Steelworkers and a member of the executive council of the AFL-CIO. Former Michigan Sen. Donald W. Riegle Jr. is a member of the Smart Globalization Initiative and chairman of government relations at APCO Worldwide.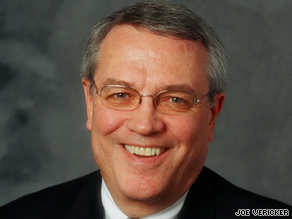 Leo Hindery Jr. and co-authors say creating jobs took a back seat to resuscitating Wall Street.
(CNN) -- We are a full year removed from the September 15, 2008, bankruptcy of Lehman Brothers, which sent the global financial system into a tailspin, and yet just 10 days removed from one of the most dismal unemployment reports in 80 years.
On the one hand, this is no kind of celebratory one-year "anniversary," if you want to call it that, and it was certainly no kind of Labor Day either. And they are related.
Early in last year's presidential campaign, then-candidate Barack Obama forcefully put forward and embraced, as one of the dominant themes of his entire campaign, an economic recovery plan based on "smart trade policies and fair rules for the global economy."
No one should ever dispute how much harder President Obama's economic recovery task became with the massive meltdown of the financial markets just a few months later, in the last throes of the Bush administration, or the urgency for the new administration to step up and right the financial ship.
But somehow in the transition from campaign to administration, the focus on employing and invigorating Main Street -- which we understood from candidate Obama would never take a back seat even to the looming important bank solvency issues -- got pushed far behind resuscitating Wall Street.
What happens when you diminish job creation as a driving economic focus became obvious with confirmation, just as the Labor Day weekend began, that the U.S. economy is now deep in the midst of a "jobless recovery," with nearly 30 million American workers effectively unemployed, of whom 8.5 million have been out of work for more than six months.
The effective unemployment rate in the country today is a staggering 18.6 percent, not the Bureau of Labor Statistics' official 9.7 percent, because there are now an unprecedented 14.8 million workers who are part-time of necessity, marginally attached or who have left the workforce out of frustration. For every unemployed worker in America who is counted, there is, for the first time ever, another un- or under-employed worker who is not, and none of these figures include the 3.5 million to 5 million young people also out of work.
And in a stark sign that the recession is now inflicting severe pain on the employed as well as the jobless, the number of working Americans turning to free government food stamps has surged. With the average full-time worker working only 33.1 hours a week, which is virtually the lowest on record, some 40 percent of the families currently on food stamps have "earned income," the Financial Times reported.
Undeniably, America's economic prosperity depends primarily on a strong and large middle class growing from the bottom up, and for the 30 years following the end of the World War II, business, labor and government leaders commonly understood this and committed themselves to such an outcome. They also understood the imperative of a national economy that is, on the one hand, relatively balanced between manufacturing and services and, on the other, not dominated by Wall Street's extreme wealth creation for just a few "masters of the universe."
American workers are the most productive in the world, and when they compete on level playing fields, they do so ably. But now, they have to compete every day against illegal foreign subsidies, currency manipulation and shameful environmental practices, which swamp all principles of fair comparative advantage. As a consequence:
• Millions of manufacturing jobs have been needlessly offshored in the last two decades;
• Manufacturing industries now represent just 11.5 percent of gross domestic product, or GDP, versus 26 percent right after WW II;
• The number of people working in manufacturing accounts for only 9 percent of the nonfarm jobs in the country;
• We have run an average trade deficit just in manufactured goods of more than $500 billion a year over the last five years; and
• Now, even high-quality service jobs are at least as much at risk of being offshored, as India and China are especially keen on seeing such jobs domiciled on their own shores.
Manufacturing needs to again be responsible for at least 20 percent of GDP, the level it was at before 1980. Service jobs do very little to help the U.S. balance of trade and mostly just move incomes around the country. And manufacturing has by far the largest multiplier effect of all job sectors, creating $1.40 of additional economic activity for each $1 of direct spending and 2.5 other jobs on average for each job in the sector, according to the Milken Institute.
Without a much improved ratio of manufacturing to services and the dramatic improvement which that would bring to overall unemployment, the current recession will be much prolonged and will probably "feed back" unto itself as factors that defined the original downturn, such as credit defaults and mortgage delinquencies, recur. We will not be able to change America's sorry status as the world's largest debtor nation, budget slashing by states and municipalities will continue, America's human capital will continue to deteriorate, and we will struggle greatly as a nation to pay for needed health care, energy and Social Security reforms.
We were delighted by the president's appointment last week of the extremely able Ron Bloom to lead an effort to revitalize manufacturing. But no one individual can be truly successful in this critical and monumental task without that fundamental rebalancing between Wall Street and Main Street that candidate Obama promised.
It will require:
• An all-of-government manufacturing and industrial policy including a 10-year (not the current two-year) program of significant public infrastructure investment;
• Buy American requirements related to all federal procurement;
• Major corporate tax reform, including reduced corporate income and payroll taxes and a new value-added-tax, or VAT; and
• A fundamental reworking of our trade relationship with China to eliminate illegal subsidies and currency manipulation, include environmental and labor protections, and improve enforcement.
Last month's dismal unemployment numbers were a clarion call for American workers to remind the administration of President Obama to heed the call of candidate Obama, and in all facets make high-quality and balanced job growth the long-term emphasis of the economic revitalization policy.
The opinions expressed in this commentary are solely those of Leo Hindery Jr., Leo W. Gerard and Donald Riegle Jr.
E-mail to a friend

All About National Economy • Financial Markets • Unemployment Rate