From Peter Hamby
CNN Political Producer





(CNN) -- The chairwoman of the GOP in South Carolina is expected to seek a party resolution calling for the resignation of Gov. Mark Sanford, a source familiar with the plans told CNN.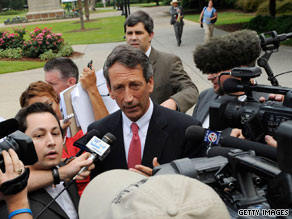 S.C. Gov. Mark Sanford has been at the center of controversy since his admission of an affair.
Chairwoman Karen Floyd is expected to make the request during a 5 p.m. conference call Thursday with members of the state Republican executive committee.
The South Carolina Republican Party convened a similar conference call in July, which resulted in a vote to censure Sanford for "repeated failures to act in accordance" with the party's core principles and beliefs. However, the party did not ask Sanford to step down.
"Now is the time for healing for our great state," Floyd said in a statement at the time.
Thursday's conference call comes a day after a majority of the Republicans in the South Carolina House of Representatives wrote to Sanford demanding his resignation, saying in a letter that the governor's actions "have been destructive to our state's image on a worldwide stage."
The governor called Wednesday's letter "both unpersuasive and unsurprising," and pointed out that many of his longtime critics signed the letter, even though several allies -- including Rep. Nathan Ballentine -- added their names.
Two weeks ago, the governor rejected his lieutenant governor's request that he resign for the good of the state.
"I am not going to be railroaded out of this office by political opponents or folks that were never fans of mine in the first place," Sanford said at a news conference to respond to Lt. Gov. Andre Bauer.
The embattled governor has said that most South Carolina residents have moved on from his admission in June that he had an extramarital affair with an Argentine woman, a disclosure that sparked investigations into his use of state resources.
Sanford has accused political rivals of continuing to stir up controversy.

E-mail to a friend

All About Mark Sanford • South Carolina Republican Party • South Carolina