WASHINGTON (CNN) -- The struggle over health care reform intensified Thursday as President Obama sought to build on what administration officials hoped was new momentum generated by his prime-time address to Congress.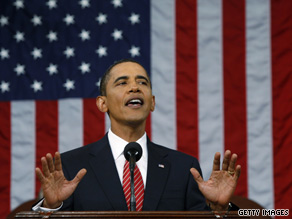 In his address to Congress on Wednesday, President Obama pushed for the government to help the uninsured.
Republican leaders ripped the president's Wednesday night speech, arguing that he had botched a unique opportunity to build bipartisan consensus and offer specifics on his long-awaited plan.
"Now is the time to act," Obama told an audience near the White House. "We have talked this issue to death. ... The time for talk is winding down. The time for bickering is past."
The president was joined by representatives of the American Nurses Association, which has strongly endorsed the passage of a healthcare bill incorporating the president's ideas.
Obama repeated several reform principles outlined in his Wednesday night address, including the need for all Americans to have access to coverage regardless of pre-existing conditions.
He again insisted that his plan will provide "more security and stability to those who have insurance," extend it to those who don't and slow the rate of growth in health care costs.
He reiterated his call to cap out-of-pocket costs and create a health insurance exchange in which individuals and small businesses can pool resources to help bargain for lower coverage costs. iReport.com: "Obama's speech lacked courage"
Obama has also pushed for the federal government to provide greater financial assistance to those who can't afford insurance.
Don't Miss
The president's latest call for reform came as the Census Bureau released new data showing that the number of people without health insurance rose from 45.7 million in 2007 to 46.3 million in 2008.
All Americans would be required by law to have health insurance under Obama's proposal, which the administration has projected to cost $900 billion over 10 years. The requirement, Obama noted Wednesday night, would be similar to mandatory auto insurance in most states. Businesses would also be required to either offer health care coverage to workers or contribute to covering their costs of obtaining coverage.

CNN's political analysts respond to Obama's speech »
Top congressional Republicans declared Thursday that they remain staunchly opposed to Obama's plan. They also accused the president of delivering an intensely partisan speech to Congress that unfairly maligned opponents and distorted basic facts.
"I thought the speech was partisan, uninformative, disingenuous and not likely to encourage those who have honest disagreements with him to be able to work toward some kind of common solution," said Senate Minority Whip Jon Kyl, R-Arizona.
Kyl complained that Obama had made it tougher to reach common ground by constantly referring to opponents' "unyielding ideological" arguments and "bogus claims."
"Nobody can have a disagreement with him based upon a valid difference of opinion," Kyl said. "It's always the other -- the motive of the other individual is a bogus motive."
Among other things, Kyl disputed Obama's claims that the Democratic plan won't add to the federal deficit.
"He wasn't referring to either the House or Senate bill that have gone through committee, because [the Congressional Budget Office] has projected that both of them have a deficit," he said. "So somehow there's going to be a different bill, which is going to solve that deficit problem, I gather, but we didn't hear any detail about that."
Health care legislation has cleared three committees in the House of Representatives, as well as the Senate Health, Education, Labor and Pensions Committee. It is currently under consideration by the Senate Finance Committee.
Kyl also took issue with Obama's claim that people will have the option of keeping their current coverage if they like it.
"It's not true under the bills. Even if you like your insurance, there's a good chance you won't be able to keep it," Kyl claimed.
Democrats and Republicans remain deeply divided over the question of whether to allow for a government-run public health insurance option.
The president continued to stress his preference for such an option Thursday, saying it would force private insurers to lower costs. But he has repeatedly referred to the provision as only one alternative for increasing competition for health insurance and signaled his openness to ideas.
Republicans are unanimous in opposing a public option, calling it an unfair competitor that would drive private insurers from the market and lead to a government takeover of health insurance.
Obama has rejected that claim as a false allegation intended to scare people.
House Speaker Nancy Pelosi, a strong supporter of the public option, insisted Thursday that such a provision would save "tens of billions of dollars" in health-care expenses.
But the speaker, who has insisted that a health care bill cannot pass the House without a public option, also indicated that she doesn't consider the provision "non-negotiable."
At a separate news conference, Senate Majority Leader Harry Reid, D-Nevada, argued that if a nonprofit health care cooperative successfully expands competition and "makes the insurance companies honest ... that would fill the bill."
The speaker nevertheless skewered the Republican opposition for failing to provide what she claimed was a reasonable alternative.
Opponent of reform "hit us with their best shot" during the August congressional recess, she said, and their attacks amounted to little more than "distortion" and "misrepresentation."
Pelosi also criticized Rep. Joe Wilson, the South Carolina Republican who heckled Obama on Wednesday night by shouting "You lie!" when the president denied that health care legislation would provide free coverage for illegal immigrants.
The "episode was unfortunate," and Wilson's remarks were "stunning to hear," Pelosi said. But given Wilson's subsequent apology, she said, "it's time to move on."
Both Democrats and Republicans have criticized Wilson for what they called a show of disrespect toward the president.
Shortly after the speech ended, Wilson issued a statement that apologized for his "inappropriate and regrettable" comments.
Obama said Thursday that he accepted Wilson's apology.
"I'm a big believer that we all make mistakes," the president noted during a Cabinet meeting. But it's important to have a debate "without vitriol. ... Our goals are generally the same whether we're Democrats or Republicans."
Wilson insisted that his outburst was "spontaneous" and agreed with the White House that the health care debate merits "a civil discussion."

One top Republican, however, also opined that Wilson's outburst reflected the strong passion being generated by the health care debate.
"We ought to have civil discourse in America, but don't underestimate the amount of emotion that people are feeling," House Minority Leader John Boehner said.
E-mail to a friend

All About Health Care Policy • Barack Obama