WASHINGTON (CNN) -- One of the most unexpected controversies of the Obama administration came to a head Tuesday as the president delivered a hotly debated back-to-school speech to students across the country.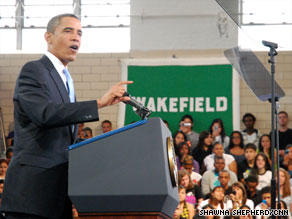 President Obama speaks to students Tuesday at Wakefield High School in Arlington, Virginia.
Many conservatives expressed fear over the past week that the president's address would be used to push a partisan political agenda.
Obama, however, avoided any mention of political initiatives. He repeatedly urged students to work hard and stay in school.
"There is no excuse for not trying," he told students at Wakefield High School in Arlington, Virginia.

Watch Obama speak to the students »
"This isn't just important for your own life and your own future. What you make of your education will decide nothing less than the future of this country. What you're learning in school today will determine whether we as a nation can meet our greatest challenges in the future." Read text of Obama's speech to students (pdf)
Several Cabinet officials are slated to deliver similar messages at various schools across the country throughout the day.
In the past week, news of Obama's speech had upset some parents.
"Thinking about my kids in school having to listen to that just really upsets me," suburban Colorado mother Shanneen Barron told CNN Denver affiliate KMGH last week, before the text of the speech was released.
"I'm an American. They are Americans, and I don't feel that's OK. I feel very scared to be in this country with our leadership right now."
But Amy Veasley, a parent from the Dallas, Texas, area, said Monday that she was surprised by the controversy.
Address to Congress
President Obama will address a joint session of Congress on health care reform Wednesday. Watch special live coverage.
8 p.m. ET Wednesday

"The president of our country wants to call our students to action. I'm not sure why parents wouldn't want their students to hear out the leader of our country," she said.
A Baltimore, Maryland, teacher who asked not to be identified bemoaned the fact that the country has "become so polarized that we believe that our president is an enemy and not our leader."
During George W. Bush's presidency, she said, "whether I disagreed or not, I still saw him as a leader." iReport.com: Share your thoughts on Obama's speech
White House press secretary Robert Gibbs said Monday that "it's a sad state of affairs that many in this country politically would rather start an 'Animal House' food fight rather than inspire kids to stay in school."
Some school administrators had decided to show the president's speech, but others decided against it. And others were leaving the decision in the hands of individual teachers.
One school district in Toronto, Ohio, decided to air the speech live for students in the third grade and up but not show it to younger children, according to CNN affiliate WTOV.
Nine out of 550 students attending the Toronto schools showing the speech chose not to watch it, WTOV noted. Toronto Superintendent Fred Burns said the parents of the nine children were concerned that the speech was too political.

Watch students respond to Obama's speech »
Don't Miss
"It's a very charismatic speech," Burns told WTOV. "It's very much a speech to help kids get involved in education and finish school."
Minnesota Gov. Tim Pawlenty, a possible contender for the GOP's 2012 presidential nomination, said Sunday that Obama's speech could disrupt an already-hectic first day of school for many students.
"I think there's concerns about the disruption," he said on CNN's "State of the Union," calling the scheduling of the speech a "little ham-fisted" by the White House.

Watch CNN's Ed Henry talk about school speech uproar »
Education Secretary Arne Duncan, however, noted that Obama's speech was not unprecedented. President George H.W. Bush delivered a nationally televised speech to students from a Washington school in fall 1991, encouraging them to say no to drugs and work hard.
In November 1988, President Reagan delivered more politically charged remarks that were made available to students nationwide. Among other things, Reagan called taxes "such a penalty on people that there's no incentive for them to prosper ... because they have to give so much to the government."
Some of the controversy over Obama's speech involved a proposed lesson plan created by the Education Department to accompany the address. An initial version of the plan recommended that students draft letters to themselves discussing "what they can do to help the president."
The letters "would be collected and redistributed at an appropriate later date by the teacher to make students accountable to their goals," the plan stated.
After pressure from conservatives, the White House distributed a revised version encouraging students to write letters about how they can "achieve their short-term and long-term education goals."
Duncan said Sunday that the passage was poorly worded.
Some politically conservative figures said they had no problem with Obama speaking to students about education.
"I think there is a place for the president ... to talk to schoolchildren and encourage" them, former first lady Laura Bush told CNN Monday. Parents should follow Obama's example and "encourage their own children to stay in school and to study hard and to try to achieve the dream that they have," she added.
Former House Speaker Newt Gingrich said on "Fox News Sunday" that Obama's speech was a good idea if the message is a positive one about completing school.
"It is good to have the president of the United States say to young people across America, 'Stay in school, study, and do your homework,' " Gingrich said.
Florida Republican Party Chairman Jim Greer accused Obama last week of trying to "indoctrinate America's children to his socialist agenda."

"Now that the White House got their hand in the cookie jar caught, they changed everything," he said Monday.
After reading the text, he said, "My kids will be watching the president's speech, as I hope all kids will."
E-mail to a friend

All About U.S. Department of Education • Barack Obama