By Ed Hornick
CNN






WASHINGTON (CNN) -- Congress returns Tuesday from a monthlong recess to tackle a list of pressing issues, and health care reform isn't the only item at the top of the list.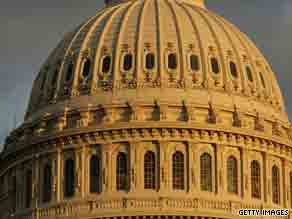 While health care reform will soon be the main topic of Congress, other key issues are looming.
Efforts to revamp the nation's health care system will undoubtedly be front and center as pressure mounts from the White House to get something done.
That pressure is likely to be placed on the Senate, where the influential Senate Finance Committee has yet to sign off on the proposed bill.
The Obama administration has also begun to ramp up efforts to push its agenda with force, beginning with an address before a joint session of Congress on Wednesday detailing what he wants in health care reform legislation.
But the Obama-backed bill is only one of the things on Congress' to-do list.
The Senate must pass spending bills before money runs out at the end of the fiscal year: in September. The House passed its spending measures before the August recess.
A contentious battle likely will ensue over the costs, as much of the GOP opposition to Democratic bills this year has focused on money.
Democrats in the House and Senate are still hoping to pass Obama's financial overhaul package, which would overhaul the banking regulatory system, create oversight of the $600 trillion private derivatives market and take oversight of the insurance industry from the states.
Also, the possibility of Congress taking up a second stimulus plan, some say, could throw a wrench into the health care debate.
But even before the health care reform debate blew up, it was climate change that found members of the House and Senate at odds with Obama.
In late June, a White House-backed climate change bill passed 219-212 in the House, with virtually no Republican support. It has since been stalled in the Senate.
The bill being proposed would reduce nationwide greenhouse gas emissions 17 percent by 2020 and 83 percent by 2050 through a so-called "cap-and-trade" program under which companies would buy and sell emissions credits. It would also require utilities to generate an increasing amount of power from renewable sources.
Republicans have argued the bill could hurt the country's battered industrial base while pushing polluting industries to countries with lower environmental standards.
But the debate over climate change could pass if it is framed in a different way, one political observer said.
"There is this new avenue developing where national security is becoming more elevated in the debate on climate change," said Jill Lawrence, a political columnist for AOL's PoliticsDaily.com.
"We're not just talking about oil from hostile nations. We're talking about natural disasters and very destabilizing weather events ... that will demand a lot from the U.S. military and also could create breeding grounds for terrorists just by toppling governments," she said.
Former GOP Sen. John Warner of Virginia has taken the national security angle to the public.
The former chairman of the Senate Armed Services Committee is working in conjunction with the Pew Project on National Security, Energy and Climate in holding events around the country, Lawrence said.
Lawrence said that with environmental and national security advocates joining forces on climate change, there's a "shot at a coalition" to get a bill through the Senate.
And that coalition could come sooner rather than later.
Sen. Barbara Boxer, D-California, chairwoman of the Senate Environment and Public Works Committee, indicated in recent media reports that she would likely introduce the bill in late September.
As one of the key sponsors, Boxer has noted that the bill has failed to gain traction because of factors including the death of Sen. Ted Kennedy and the health care reform debate.
But some Republicans have signaled that a bill will have a tough time passing.
"I think it's going to lead to significant increases in electricity across America in an effort to try to deal with a global problem. If we do have a global warming problem, and many people believe we do, we need to target it on a global basis," Senate Minority Leader Mitch McConnell, R-Kentucky, recently told Fox News Sunday.
But already, interest groups are lining up with a series of ad blitzes to sway members of Congress, including the National Association of Manufacturers, the League of Conservation Voters, Americans for Change and the American Values Network.
One advertising expert said the recent ads hitting the airwaves are not only aimed at the climate change proposals, but also on members of Congress, especially moderate Democrats and Republicans in western and southern states.
Evan Tracey, CNN's campaign media analyst and chief operating officer of TNS Media Intelligence/CMAG, said the ads are mostly aimed at House members despite the passage in the House.
The reason, Tracey said, is because legislation if passed in the Senate will have to be conferenced with the House bill, and the ads could simply be taking political shots at members of Congress.
Tracey said the ads are going to be a "bookend" issue to current ads on health care filling TVs across the country.
"Between the echo chamber of health care and the cap and trade bill here, it's going to be an awful lot of issue advertising in a number of these states and certainly on cable news as we go through the fall."

The challenge to groups touting climate change reform is that it's not an easy issue to understand, much like health care reform, Tracey said.
"I think that's one of the challenges with all this advertising. It's going to be boiling itself down to what makes the best political argument."
E-mail to a friend

CNNMoney.com contributed to this report.
All About U.S. Congress • Health Care Costs