By John King
CNN Chief National Correspondent





Editor's note: On CNN's "State of the Union," host and Chief National Correspondent John King goes outside the Beltway to report on the issues affecting communities across the country.
WATERLOO, Wisconsin (CNN) -- On a dairy farm that Bob Topel likes to describe as "25 miles from anywhere," the term co-op is old hat.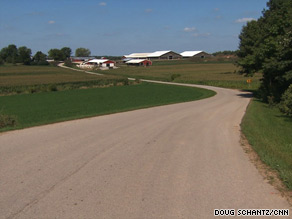 Farmers like Bob Topel have relied on co-ops for years to buy feed, seed, fuel and fertilizer.
"Co-ops have been around for well over 100 years in agriculture," Topel said while milking, feeding and other chores on his 660-acre farm.
"Here on our farm we buy everything -- from seed, fuel, fertilizer, feed -- everything we buy is pretty much through a cooperative." He sells his milk through a local cooperative, too.
And, for the past 10 months, Topel and his wife also get their health care through a cooperative, one he holds out as a model as Congress and the White House debate health care reform and specifically whether a robust, government-run health care option is necessary to provide competition with private insurers.
"My coverage is excellent," Topel said. He pays $1,300 a month - not cheap - but he says it is reasonable given his high blood pressure, his wife's high cholesterol and the premium benefits he selected, including coverage for any accidents or injuries that occur on the farm.
Besides, Topel says, when he sees such cooperatives working - there are a dozen health care cooperatives here in Wisconsin alone - it makes him all the more hesitant to think there is a need for a new government-run public option.
"To me, just looking at the way the government managed the clunker program, and managed FEMA and Katrina and all those things, I just don't want to turn my health care over to a government agency and try to fit my round peg into a square hole," Topel said.
State of the Union
John King reinvents Sunday talk: more time for more politics.
9 a.m. ET Sunday

It is a telling snapshot of the political dilemma facing President Obama: Topel's skepticism about the cost of a public option, and his questions about the government's competence to administer such a program, are hardly unique to this admittedly conservative Wisconsin family farmer.
Fifty-three percent of Americans in the latest CNN polling disapprove of how the president is handling the health care issue, and those rising doubts are being fed by concerns about the price tag, and about the reach and competence of government.

Watch more about how Americans feel about health care »
'With the co-op system, I know the people that I can call, and they are going to take care of me because I am an owner, versus just a number," is how Topel put it.
Expanding nonprofit, member controlled co-ops as an alternative to a sweeping new public option is an idea being pushed by Senate Budget Committee chairman Kent Conrad, D-North Dakota, and other farm state lawmakers for whom the co-op model is familiar.
The dozen health care cooperatives operating in Wisconsin are organized around one of three operating models:
• The staff model. In this approach, the co-op employs the physicians and other providers directly.
• The purchasing alliance. The farmers band together to create a pool that then negotiates with insurers and providers. The Farmers' Health Cooperative of Wisconsin that Topel belongs to fits this model.
• The self-insured cooperative. A group of similar businesses or organizations band together to increase their leverage. Wisconsin's various school boards, for example, have a relatively new co-op and say private insurers are cutting rates and adding benefits to better compete for the business.
Don't Miss
Bill Oemichen, the president and CEO of the Cooperative Network in Wisconsin, is careful to note the organization has not taken a stand on the public option.
"But we think cooperatives represent a very good option in the health care debate," Oemichen said.
"If you are looking at trying to get the interests of the insurance company to be essentially the same as a consumer who is getting that health insurance, then the cooperative is the way to do that," Oemichen said. "It's owned by the consumers, providing the services that the company would provide."
As proof of its impact on competition, Oemichen points to the 62,000-member Group Health Co-op of South Central Wisconsin.
"I don't think it is coincidental that the most competitive market for health insurance in the state is where Group Health Cooperative exists," Oemichen said. "They put real pressure on the prices that are being charged by the non-cooperatives in the marketplace."
The farmers' health co-op that Topel joined has been in existence for two and a half years. It offers several plans to choose from, with annual deductibles ranging from $300 to $5,000, and the coverage is accepted at the overwhelming majority of Wisconsin hospitals and clinics.
"So the producer doesn't have to make a decision, 'if I join this cooperative I can't see the doctor I have been seeing for a couple of decades,'" Oemichen said. "And we saw it immediately in the market, rates start to go down from competitors, and the benefits significantly went up.
"And one of those important benefits is coverage when you're injured in your barn. And in Wisconsin we've got 15,000 dairy producers. That's a big deal. Prior to our co-op being created, insurers typically did not cover any accident outside the back step of the house. We fully covered that, and now other insurers are fully covering that, as well."
The legislation endorsed by three House committees includes language allowing a modest expansion of the co-op experiment, and the idea has broader support in the Senate, where an effort to get a more centrist bill out of the Finance Committee will take on added urgency after Labor Day.
Asked why there isn't broader support for co-ops, Oemichen, who once worked as an aide in the House of Representatives, said it is a simple question of familiarity.
"There just are not a lot of people on the Hill who understand what a cooperative is and what a cooperative can do," he said.
Conrad has suggested the government could provide about $6 billion in funding to get more co-ops up and running, and he and his allies in the debate believe this approach will be more successful and have more support politically than a pure government-run health insurance options.
Some, though, have questioned whether a model that works well in rural areas can be copied in urban or suburban areas, or have raised questions about the formulas that would be necessary to offer subsidies to low-income Americans without health insurance. Others have warned that regulating health co-ops would create new bureaucracy.

From his perspective on the farm in rural Wisconsin, Topel says it makes sense to him to try something with a proven track record before launching a sweeping new government program.
"I just can't see, being a private businessman, how the government can do anything more efficiently," he said. "As an owner of the company, you're going to make sure you get the best rates and the lowest rates, and I'm not sure the government can do that. But certainly the co-op is an option, and I think a much better option than a government option would be."
E-mail to a friend

All About Health Care Policy • Wisconsin • Kent Conrad