WASHINGTON (CNN) -- The White House is quietly talking about drafting formal health care legislation after allowing Congress to work on its own for months, CNN has learned.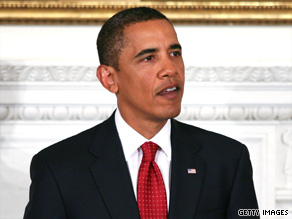 President Obama has asked representatives what they mean when they call for a "robust" public option.
Multiple sources close to the process told CNN on Friday that while the plan is uncertain, the administration is preparing for the possibility of delivering its own legislation to Capitol Hill sometime after President Obama's speech to a joint session of Congress on Wednesday.
One source called the possibility of new legislation a contingency approach if efforts by Finance Committee Chairman Max Baucus, D-Montana, to craft a deal fall through.
Two sources familiar with the "Gang of 6" bipartisan talks say Baucus could distribute a proposal to the other five negotiators as early as Saturday.
Democratic sources said Baucus is well aware that with the president's Wednesday speech looming and the White House already looking at other avenues to pass a health-care bill, time is virtually up for this group, which had been negotiating intensely all summer.
A big open question is whether two Republicans, Sen. Charles Grassley of Iowa and Sen. Mike Enzi of Wyoming, will support the bipartisan proposal.
White House and Democratic leadership sources have said for some time they do not think Grassley and Enzi will sign on.
Baucus is hoping to find the answer to that question by distributing a proposal this weekend, ahead of the group's meeting Tuesday.
The White House emphasized Friday that no formal bill has been written.
"The president has been reviewing all of the various legislative proposals, but no decision has been made about whether formal legislation will be presented," said Dan Pfeiffer, deputy communications director.
A source close to the White House said the administration is leaning toward dropping the public option, and continues to zero in on persuading Republican Sen. Olympia Snowe to come on board. Snowe has long pushed for a trigger option.

Watch why Obama faces dilemma on health care bill »
The source said the bill that would be presented to Snowe would leave out a public option but include a trigger provision that could lead to the introduction of a new government-run insurance plan under certain circumstances. The legislation would cover most, though not all, of the 46 million uninsured Americans. It would also include popular insurance reforms, such as ending the insurance industry practice of using pre-existing conditions to deny coverage.
This Democratic source also said that if the deal comes together, the key will be to successfully address the pushback from disaffected liberal legislators and congressional leaders.
President Obama took an initial step in that direction Friday afternoon, holding a conference call with some of the most liberal members of the House, who say they won't vote for a bill without a government-run insurance option.
Two congresswomen on the call said the president questioned them about how entrenched they are, even asking them to define what they mean when they call for a "robust" public option.
"I think he would like to convince us that there is something sort of that could lead to a public option that would satisfy us, and guess what? It doesn't," Rep. Lynn Woolsey, D-California, said in a telephone interview after the conference call.
Woolsey, the chairwoman of the Congressional Progressive Caucus, insisted that the president did not explicitly warn them that he may have to give up a so-called public option in order to pass a bill through the more moderate Senate, but it seemed he was laying the groundwork.
Woolsey and Rep Barbara Lee, D-California, the chairwoman of the Congressional Black Caucus, said they told the president point blank that they do not believe a health care proposal without a government run option is real reform.
"All of our caucuses are very unified about a robust public option, and that is essential in health care reform efforts," Lee said in a separate phone interview after the conference call.

A Democratic source close to the process told CNN Friday that the White House was very conscious of the potential congressional fallout: "How do you [get the deal passed] without a revolt in the House? It can be done, but very delicately."
The bottom line, said the source, is that the president would have to "move to the center" on the issue eventually, "and it's not a bad thing to have liberals screaming at him." That development will help sell the deal to Americans and "convince them it's a good, moderate deal, if liberals are mad."
E-mail to a friend

CNN's Jessica Yellin, Gloria Borger, Ed Henry and Dana Bash contributed to this report.
All About Barack Obama • Health Care Policy