From Dana Bash
CNN Senior Congressional Correspondent






WASHINGTON (CNN) -- Rep. Jim Clyburn, D-South Carolina, said Friday that he believes that Democrats should be willing to take "half a loaf" in order to pass health care reform.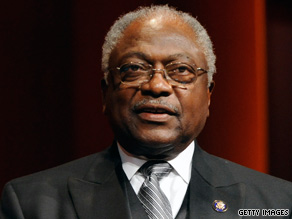 Rep. Jim Clyburn, D-South Carolina, is urging Democrats to compromise on a public option plan.
The House majority whip's idea is to offer a government-run public option only as a pilot program around the country.
Clyburn spokeswoman Kristie Greco said Friday that he raised this idea with other members of the House Democratic leadership recently in a conference call.
A Senate Democratic leadership aide said that although Clyburn should be applauded for trying to find compromise among differing Democrats on the controversial public option, the primary compromise negotiations now center around the idea of a safety net or "trigger" public health plan being promoted by Republican Sen. Olympia Snowe of Maine.
Snowe met with President Obama and other staff members this week to discuss the idea, two sources said. The idea would give insurance companies a defined period to make changes in order to help cover more people and drive down long-term costs.

Watch more on the health care debate »
But if those changes failed to occur within the defined period, a trigger would provide for creating a public option to force change on the insurance companies.
"This option would be available from day one in any state where -- after market and insurance reforms are implemented -- affordable, competitive plans still do not exist," Snowe said in a news release.
Her main concern with the public option has been the high cost.
Snowe is part of the "Gang of Six" on the Senate Finance Committee, which is made up of three Democrats -- Senate Finance Chairman Max Baucus, along with Jeff Bingaman and Kent Conrad -- and three Republicans: Snowe, Chuck Grassley and Mike Enzi.
That group had a conference call Friday to discuss what staff members have been doing and to plan for Tuesday, when Congress reconvenes.
Baucus, D-Montana, issued a statement after the call.

"Today's call was a productive one. We addressed a number of issues at hand and the next steps moving forward. Health reform is certainly a significant challenge, and each time we talk, we are reminded just how many areas of agreement exist," he said. "We agree we need to take control of health care costs and make health insurance affordable for families and small businesses."
Baucus added that they would sit down and "take stock of where we are and determine how to best pass real reform."
E-mail to a friend

CNN's Ed Hornick contributed to this report.
All About U.S. Congress • Health Care Policy • U.S. Senate Committee on Finance