By Gloria Borger
CNN Senior Political Analyst





Editor's note: Gloria Borger is a senior political analyst for CNN, appearing regularly on CNN's "The Situation Room," "Campbell Brown," "AC360°" and "State of the Union With John King," as well as special event coverage.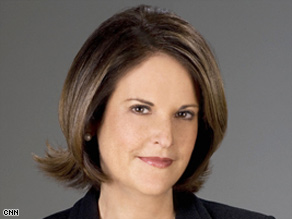 Gloria Borger says the president has to lead the way out of the confusing health care debate.
WASHINGTON (CNN) -- In a way, the president really has no other choice but to finally speak -- and speak conclusively about what he wants in a health care reform bill.
After all, 67 percent of Americans told CBS pollsters over the weekend that the health care debate is "confusing." Only 31 percent thought they had a "clear understanding" of the issues involved. What's worse, the uncertainty cut across party lines. For once, in this polarized time, Democrats and Republicans agree on something: They're perplexed by this health care debate.
And so the White House has announced the president will address a joint session of Congress September 9. It's better late than never.
It hasn't been an easy summer. And maybe, when this is all over, administration aides will look back at their initial strategy with some chagrin. You'll recall the plan was to allow Congress to legislate first, in order to avoid the mistakes of then-first lady Hillary Clinton 16 years ago. She presented a health care reform plan to Congress which then became a big, fat target. The bill died, and she was excoriated.
So the Obama White House (full of ex-Clintonites) developed its anti-Clinton strategy. But Congress became bogged down (surprise!) in its own partisan free-for-all. Some House committees passed predictably liberal legislation and the Senate dithered just as predictably on trying to reach some sort of bipartisan compromise.
In the end, over the summer, two key Republican senators who had been part of bipartisan negotiations bolted. Sens. Chuck Grassley of Iowa and Mike Enzi of Wyoming, confronted by angry and confused constituents, abandoned reform. Enzi said the Democrats' proposal would "raid Medicare." And Grassley, the ranking Republican Senate Finance Committee member and the GOP's key to negotiations, just sent out a fundraising letter asking for voters to help him "defeat Obama-care."
So much for bipartisanship.
Don't Miss
Now comes the president, trying to save reform. "We are taking the discussion to the next level," a senior administration official tells me. And what about that strategy of avoiding Hillary Clinton's mistakes?
Won't any presidential plan become a target? "At this point, we already are a target for those folks who don't want to do anything," says this adviser. "People like Grassley and Enzi have pulled the plug on this process."
The big question now, of course, is whether the president will stick with his plan for a public option. The likely answer: is he won't. It's an answer that will enrage the Democratic left -- and, most notably, labor -- but it might actually help sell the legislation to the public. It's not as if the White House expects that suddenly Republicans will start clamoring for health reform, but it gives the administration the ability to say "We compromised in a big way, and Republicans still said no way."
And the president needs to set his priorities as he lays out his plan. What's the main need here? Universal coverage? Better coverage that ensures that those with pre-existing conditions can get insurance? Medical cost containment? Deficit reduction? And once he lays out his goals, he can make it clear that the public option is not the only way to get there. Indeed, it's curious that the White House allowed the public plan to become such a centerpiece of the debate when it actually isn't.
In the end, the Democratic left could decide to bolt. That, of course, would be at its own peril. A new CNN poll released today shows that a majority of Americans still want to get something done on health care -- and they want Congress to continue the work it started before the August recess. They understand the key issue here: things will only get worse: two-thirds recognize that the problems facing the health care system will affect all of us if they're not fixed.
It's a message for all members of Congress. In losing Sen. Ted Kennedy, the Democrats not only lost someone who would unite the party, they also lost a legislator and a senator with a memory of what can happen when purity gets in the way of compromise.
Kennedy knew it firsthand. As a young senator fighting for health care, he was offered a version of universal coverage by President Nixon. He declined to accept it and got nothing instead. It was a mistake, he often told staffers. Even if it wasn't perfect, he would have had a foundation he could have built upon over the years.
Instead, we are back at ground zero still trying to climb out of the hole. It's gotten steeper as costs, fears and partisanship have mounted. Now the president has to start digging us out.
The opinions expressed in this commentary are solely those of Gloria Borger.
E-mail to a friend

All About Barack Obama • Health Care Policy • Chuck Grassley