By Taylor Gandossy
CNN





(CNN) -- Facing a busy day, Stephanie Maheu and Janis LeBaron awoke early Tuesday to meet the town clerk in Duxbury, Vermont, with one objective in mind: marriage.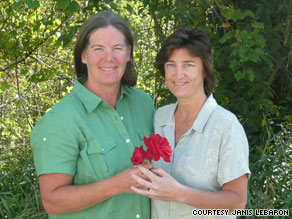 Janis LeBaron, left, and Stephanie Maheu make it official Tuesday as Vermont recognizes same-sex marriages.
The two arrived at the clerk's office when it opened at 7:30 a.m. on the first day that same-sex marriages became legal in Vermont. "We were first in line, but there was no line," said LeBaron, 50.
"They were almost waiting for me," said Ken Scott, the clerk in Duxbury, a town of nearly 1,350 about 32 miles southeast of Burlington.
The Vermont Legislature cleared the way for the wedding in April when it overrode Gov. Jim Douglas' veto of a bill legalizing same-sex marriage.
Connecticut, Massachusetts and Iowa also allow same-sex marriages. New Hampshire will join those states on January 1.
Maine's governor in May signed a same-sex marriage bill into law, but it has been delayed while state authorities verify signatures that would force a referendum in November, the secretary of state, Matt Dunlap, said. Opponents needed to gather 55,087 signatures, and they have turned in much more than that, he said. The law was to go into effect September 12.
"It's just available now, and why not make it official?" said Maheu, 42, a kitchen designer, explaining by phone why they decided to take the step. iReport.com: Are you in a same-sex marriage?
The couple already had a commitment ceremony and a civil union. Maheu said they discussed getting married on the anniversary of their civil union, September 13, but realized that it fell on a Sunday this year.
"We figured we would legally upgrade [to marriage] without any lag in time," LeBaron said.
Said Maheu, "Janis called me yesterday and started singing, 'We're getting married in the morning.' "
She added, "It's kind of exciting. I didn't think it was going to affect me ... but it did."
LeBaron said the ceremony included saying, "I did, I did, I do" -- referring to vows for the commitment ceremony, civil union and now the marriage.
She said they may celebrate their wedding later Tuesday, perhaps in front of a bonfire and among friends.
The two have been together for more than a decade.
"I definitely don't feel like today is a first step," LeBaron said, explaining that "would kind of negate my 13 years with Steph."
She added, "We don't see ourselves any differently. ... The world looks at it differently, but commitment-wise, we'll see things as not really changing."
E-mail to a friend

All About Vermont • Same-Sex Marriage