WASHINGTON (CNN) -- President Obama encouraged all Americans Tuesday to take "common-sense" steps in preparation for an expected resurgence in the H1N1 virus this fall.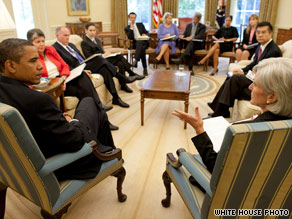 President Obama meets Wednesday with top advisers to discuss plans regarding the H1N1 virus.
Among other things, he said, people should wash their hands frequently and stay home from work if they are ill.
"I know it sounds simple, but it's important and it works," he said at the White House.
"I don't want anybody to be alarmed. But I do want (people) to be prepared."
The president said hospitals need to prepare for an unusually large influx of patients. While the federal government is doing everything possible to prepare for a new H1N1 outbreak, there will likely be "issues coming up over the next several months," Obama said. The way the virus is "moving is still somewhat unpredictable."
Families and businesses, he said, should have plans in place in the event that relatives or co-workers contract the virus and need to remain at home.
State and local governments need to be "on the front lines to make anti-viral medications and vaccines available," he added.

Watch President Obama discuss what precautions people can take »
The president made his remarks after receiving a briefing on preparedness for H1N1, also known as swine flu, from several senior administration officials.
He met with Homeland Security Adviser John Brennan, Education Secretary Arne Duncan, Centers for Disease Control and Prevention Director Tom Frieden, Homeland Security Secretary Janet Napolitano, Commerce Secretary Gary Locke and Health, and Human Services Secretary Kathleen Sebelius, among others.
Obama's remarks came one week after a presidential advisory panel estimated the H1N1 virus could cause up to 90,000 U.S. deaths, mainly among children and young adults, when infections surge upward as expected this fall.
Seasonal flu, in contrast, typically kills an average of about 36,000 Americans each year, according to the CDC, mainly people 65 and older and young children.
With both types of flu, people with chronic medical conditions and pregnant women also are at higher risk.
H1N1 could infect between 30 percent to 50 percent of the American population during fall and winter and lead to as many as 1.8 million hospital admissions, the President's Council of Advisors on Science and Technology reported.
The fall H1N1 resurgence may begin with the start of the school year and may peak in mid-October, the report said. A vaccine against H1N1 is being tested but is not expected to be available until at least mid-October, health officials have noted.
The vaccine will likely require two shots at least one week apart, and because it typically takes a couple of weeks for a person's immunity to build up after vaccination, most Americans would not be protected until sometime in November.
Vaccinations will be voluntary but "strongly recommended," Obama said.
In a separate meeting Tuesday, Napolitano and Washington-area leaders expressed confidence in the region's planning for the H1N1 virus.
Maryland Gov. Martin O'Malley and Virginia Gov. Tim Kaine said state budget problems will not impact public health care.
"We are confident that we are going to be able, notwithstanding those challenges, to distribute vaccinations as they become available. ... We have to. That is our job," O'Malley said.
Said Kaine: "We don't just cut across the board. We cut based on priorities, and public health is a very top priority."
The World Health Organization in June declared a Level 6 worldwide pandemic, the organization's highest classification.
To help combat the spread of the virus among young children, the Department of Health and Human Services announced Wednesday that it is re-releasing a series of public service announcements featuring the popular Sesame Street character Elmo.

The ads stress the importance of basic healthy habits such as frequent hand washing, sneezing into the bend of your arm, and not touching your mouth, nose, and eyes.
The ads were initially rolled out in May, but have now been repackaged to help promote www.flu.gov, the government Web site responsible for posting information regarding the H1N1 virus.

E-mail to a friend

CNN's Mike M. Ahlers contributed to this report.
All About Swine Flu • Barack Obama • Centers for Disease Control and Prevention • U.S Department of Health and Human Services