By Ed Hornick
CNN






(CNN) -- They're angry and not going to take it anymore. And now they are doing something about it -- again.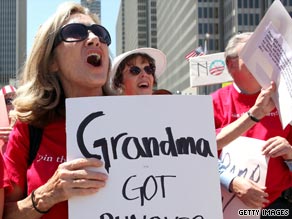 A protester takes part in an anti-health care reform rally August 14 in San Francisco, California.
On Friday, the Tea Party Express group sets off on a bus tour starting in Sacramento, California, and winding down in Washington on September 12.
At that point, the group notes, a three-day march on the nation's Capitol will take place to protest health care reform and what they see as big government.
The tea party movement gained momentum this year; several parties were held across the country this summer to protest President Obama and the Democrats' economic stimulus plans, among other things.
On July 4, nearly 2,000 advocates, toting signs and chanting slogans, rallied outside Congress. Activists said the TEA Party Day -- an acronym for "Taxed Enough Already" -- was in response to runaway government spending.
But now, the focus is on health care reform, an issue that has brought about demand for bigger, more encompassing debate throughout the country and in Congress.
"What brought everything together was the Obamacare idea, which contains every odiferous objection," Tea Party Express organizer Mark Williams said Friday. "Is it health care? [Sen. Ted] Kennedy care?"

Watch CNN's Jim Spellman's tour with the group »
Conservative groups such as Freedom Works, run by former House Majority Leader Dick Armey, Campaign Liberty and the Institute for Liberty are just some of those who will attend the march.
The caravan of vehicles features two 45-foot buses along with several RVs and a contingent of SUVs and support vehicles. It will head east from California "to unify, educate, and most importantly encourage Americans to continue their opposition of deficit spending, government-run health care, and irresponsible bailouts," the group said in a statement.
The tour is being funded by Our Country Deserves Better, a conservative political action committee.
When asked why tea party groups are now angry over the rising deficit and an increase in government's size, which started during the Bush administration, Williams countered: "It hadn't reached critical mass."
But Williams, who said his organization is nonpartisan, was quick to point out that the rallies are not aimed at one politician over another, namely President Obama.
"This is not people upset over one particular politician or one particular party," Williams said. "In fact, if you ask the Republicans in the crowd, you'll find they are just upset at their party as they are at the Democrats."
Jeremy Bird, deputy director of Organizing for America, the successor group to Obama for America, said the anger over health care reform seen in town halls is being fueled by cable news channels singling out rowdy activists.

Watch more on town hall protesters »
"Supporters of reform are far outnumbering opponents," he said. "And unfortunately, some of the 24-hour cable news echo chamber has focused on the small minority of folks who have tried to disrupt it."

Bird's group is also holding a multistate tour aimed at dispelling health care reform rumors.
"We're having great stops ... overwhelming support from local elected officials from average citizens," he said.
E-mail to a friend

All About Organizing for America • Health Care Costs