DORCHESTER, Massachusetts (CNN) -- A bell tolled atop Boston's Faneuil Hall on Thursday as the body of Sen. Edward Kennedy passed through the streets, while mourners lined up outside his late brother's presidential library for a chance to say goodbye.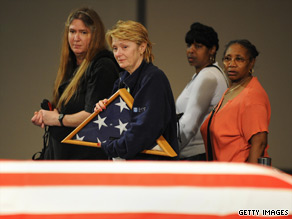 Members of the public file past Sen. Edward Kennedy's coffin at the John F. Kennedy Presidential Library.
Kennedy lay in repose Thursday evening after his flag-draped casket arrived at the John F. Kennedy Presidential Library from the family's Hyannis Port compound on Cape Cod, Massachusetts.
An estimated 1,600 people had lined up to view the casket as of 5 p.m., an hour before friends, family and constituents began to file past.
Kennedy died Tuesday night in Hyannis Port after a 15-month battle with brain cancer. He was 77, and had represented Massachusetts in the Senate since 1962. As his cortege passed through Boston, a bell at Faneuil Hall was rung 47 times -- once for each of Kennedy's 47 years in office.

Watch well wishers say goodbye to Kennedy »
Faneuil Hall was where Kennedy launched his ill-fated 1980 presidential campaign, and it was one of several stops the procession made along the way. It crossed the Rose Fitzgerald Kennedy Greenway, a park named for the senator's mother and one-time family matriarch, and passed the Massachusetts State House and the home that John Kennedy lived in when he first ran for Congress in 1946.

Learn more about Kennedy's funeral arrangements »
A Celebration of Life
CNN covers the life and death of Sen. Ted Kennedy, including the memorial Friday night and the funeral Saturday.
CNN and CNN.com; Fri.-Sat.

Kennedy's body will lie in repose through Friday at the library, with a memorial service to be held there Friday evening. Vice President Joe Biden, Massachusetts Sen. John Kerry and Arizona Sen. John McCain will be among the speakers at the memorial. View reaction from public figures
At least 40 of Kennedy's fellow senators and former presidents Jimmy Carter, Bill Clinton and George W. Bush are expected to attend Saturday's funeral at Our Lady of Perpetual Help Basilica in Boston's Mission Hill section, a short distance from the library.
President Obama, who called Kennedy an "extraordinary leader" Wednesday, will deliver a eulogy at the funeral, according to several sources. Prime Minister Brian Cowen of Ireland, the famous clan's ancestral homeland, and British Prime Minister Gordon Brown are also expected to attend, a family spokesman told CNN.

Watch a profile of Kennedy's wives »
Don't Miss
Kennedy will be buried Saturday evening at Arlington National Cemetery, outside Washington. Kennedy is eligible for burial at Arlington due to his congressional service and his tenure in the Army from 1951 to 1953.

The proposed gravesite is 95 feet south of the grave of Sen. Robert Kennedy, which is in turn just steps away from John Kennedy's burial site.
Bad weather could affect Saturday's ceremonies. Tropical Storm Danny, now churning east of the Bahamas, is expected to brush the East Coast and be near Cape Cod by Saturday evening.
E-mail to a friend

CNN's John King, Alec Miran and Barbara Starr contributed to this report.
All About Hyannis Port • Edward M. Kennedy • Arlington National Cemetery • Robert F. Kennedy