LONDON, England (CNN) -- Worldwide tributes for U.S. Senator Edward Kennedy, who has died after a long battle with brain cancer, poured in Wednesday, led by politicians hailing his role in securing a lasting peace in Northern Ireland.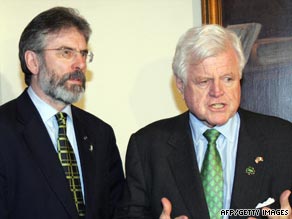 Senator Edward Kennedy, right, pictured with Northern Irish politician Gerry Adams in 1996
Former British Prime Minister Tony Blair, whose administration presided over the 1998 Good Friday Agreement which led to an end to decades of sectarian violence in the province and established a united ruling Assembly, praised Kennedy's commitment to the process.
"I saw his focus and determination first hand in Northern Ireland where his passionate commitment was matched with a practical understanding of what needed to be done to bring about peace and to sustain it," Blair said.
Kennedy, of Irish Catholic ancestry, was initially an outspoken opponent of British military deployment to the province during the violence of the 1970s and 80s in which more than 3,600 people were killed, but later moderated his views to support negotiations that brought all sides to the table.
The senator is credited with getting an American visa for Gerry Adams -- leader of the pro-Irish nationalism Sinn Fein party accused of links to Irish Republican Army militants -- allowing him to attend a pivotal U.S. conference on Northern Ireland's future.
Sound off: Your reactions to Sen. Kennedy's death
Kennedy was awarded an honorary knighthood in March 2009, for his contribution to Northern Irish peace, which included a landmark speech in the province in 1998 urging mainly pro-British Protestants and mainly pro-Irish Catholics to work together.
Irish Prime Minister Brian Cowen described Kennedy "a great friend of Ireland."
Don't Miss
"He has used his considerable influence in the world's most powerful parliament for the betterment of this island," he said.
"In good days and bad, Ted Kennedy worked valiantly for the cause of peace on this island. He played a particularly important role in the formative days of the Northern Ireland peace process in the early to mid-1990s." iReport.com: Share your tributes
Irish President Mary McAleese added: "He will be remembered here in Ireland as a hugely important friend to this country during the very difficult times.
"His death will be greeted with a great sense of sadness here because of his long-standing affection for this country, not just with the peace process, but on many other issues, including emigration," McAleese said.
"His outstanding and remarkable personal contribution was made, despite the sacrifice and sorrow that was part of the overall contribution of the entire Kennedy family."
Sinn Fein president Adams greeted Kennedy's death with great sadness, according to the UK Press Asscociation.
"He has served the American people with courage and commitment for nearly 50 years. His service to Ireland through his role in the peace process was exceptional and contributed significantly to its progress."
Irish former policitician John Hume, a co-recipient of the Nobel Peace Prize for his work in ending Northern Irish violence, described Kennedy as a close personal friend who took the Northern Ireland issue onto the world state.
"Ted Kennedy was at the forefront of persuading the British government to talk to the Irish government," he told CNN.
Shaun Woodward, the British government's Northern Ireland minister, said he was "deeply saddened" to hear of Kennedy's death.
"Ted Kennedy was a true and constant friend of the peace process in Northern Ireland whose huge influence in engaging the United States in that process cannot be over estimated," he said.
"In every sense he was an immense figure whose part in transforming Northern Ireland will be a lasting memorial.
British Prime Minister Gordon Brown paid tribute to Kennedy's achievements on the wider world stage, describing him as the "senator of senators."
"He led the world in championing children's education and health care, and believed that every single child should have the chance to realize their potential to the full," Brown said.
"Even facing illness and death he never stopped fighting for the causes which were his life's work. I am proud to have counted him as a friend and proud that the United Kingdom recognized his service earlier this year with the award of an honorary knighthood."
In Israel, Foreign Minister Avigdor Leiberman hailed Kennedy as a "great friend of Israel and the Jewish people a defender of human rights and member of a family that through the years at the Senate was always at the side of Israel, in bad times and good and contributed to the deep and special relationship between Israel and the United States."
German Chancellor Angela Merkel described Kennedy as a "towering figure in U.S. politics."
"His battle for justice and equality was defined by persistence and resoluteness. In Senator Kennedy both Germany and Europe have lost a great and dear friend," she said.
Australian Prime Minister Kevin Rudd described Kennedy as a "great American, a great Democrat and also a great friend of Australia."
"He has made an extraordinary contribution to American politics, an extraordinary contribution to America's role in the world," Rudd said in a statement, according to Agence France-Presse.
E-mail to a friend