(CNN) -- Rhode Island's state employees will get 12 days off without pay over the next year -- whether they like it or not.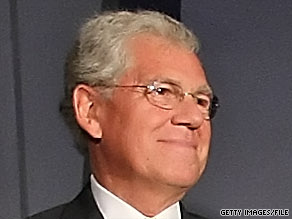 Rhode Island Gov. Donald Carcieri has mandated furlough days for many state employees.
Gov. Donald Carcieri signed an executive order Monday mandating furlough days for employees who provide non-critical services, a move in line with actions taken by legislators around the country desperate to narrow their state budget gaps.
Nineteen states have proposed or enacted budget plans for fiscal year 2010 that include a pay reduction for employees and less access to services for residents as a result of shutdown days, according to the National Conference of State Legislatures.
Rhode Island's cutback will exclude law enforcement, hospitals, the Department of Corrections, the state's public transportation system and some child care services, said Amy Kempe, press secretary for Carcieri. But the Department of Motor Vehicles, tax offices and other services not usually provided on a Sunday or other federal holiday will be closed for 12 days, said Kempe, saving the state $68 million.
Lawmakers hope that the plans pushed nationwide reduce budget shortfalls. The total shortfall for all states combined for fiscal year 2010 is projected at $142.6 billion, according to the National Conference of State Legislatures, a bipartisan organization that serves the states' legislative bodies.
Twelve states -- including Arizona, Illinois and Maine -- have called for furloughs of 10 days or more, according to the conference. California has enacted the most, with three days off a month through June 2010, the conference said.
The trend in mandating days off will undoubtedly spark criticism from employees, and Carcieri has already anticipated an outcry from unions, saying that the move is legal under collective bargaining agreements, according to his Web site.
In New York, Gov. David Paterson has proposed laying off 8,900 state workers if unions do not agree to proposed five-day furloughs, according to the conference of legislatures.
In Hawaii, a circuit court ruled that unilateral furloughs violated collective bargaining agreements, the state legislature group said. Gov. Linda Lingle instead ordered two days off for herself, her cabinet and deputies, according to the conference's research.
"I just think when you're talking about $142 billion, pretty much anything and everything is on the table," said Todd Haggerty, a research analyst for the National Conference of State Legislatures.
In Rhode Island, where the governor and his staff, like other state employees, expect a 4.6 percent cut in salary due to the shutdown, less pay is better than no pay.
According to the Bureau of Labor Statistics, Rhode Island had the second highest unemployment rate in the country, at 12.7 percent as of July.
"As the governor said, we are very fortunate to have jobs," Kempe said. "There are lots of Rhode Islanders out there that don't have jobs, that don't have benefits."
E-mail to a friend

CNN's Khadijah Rentas contributed to this report.
All About Economic Issues • Rhode Island