By Ed Hornick
CNN






WASHINGTON (CNN) -- More than seven months into office, President Obama still has a number of top posts to fill, which one expert said could be hurting the nation's security.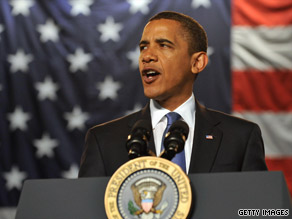 Several of President Obama's Cabinet secretary picks dropped out because of the nomination process.
An analysis by the White House Transition Project -- a nonprofit organization tracking administrations -- showed that 210 days into his administration, Obama had nominated candidates for 243 of the 385 jobs requiring Senate confirmation.
The Senate has confirmed 193 but still has a backlog of candidates needing to be examined.
Some of the top jobs open include assistant secretary of state for nonproliferation, and the directors of the Agency for International Development, Customs and Border Protection, Drug Enforcement Administration, and the Bureau of Alcohol, Tobacco, Firearms and Explosives.
David Lewis, a professor at Vanderbilt University, said the vacancies in key posts might be hurting the nation's security.
"It means that a lot of the agencies of government that are driving important public policies that have consequences for the lives of millions of Americans don't have leadership at this point," he said.
Clay Jones, a former deputy director in the White House Office of Management and Budget, said in a 2008 report that no previous administration has had more than about 25 Cabinet and subcabinet personnel in place by April 1 of its first year.
In addition, Jones noted that no previous administration had more than about 240 Cabinet and subcabinet personnel confirmed by the August recess.
A top historian said the vacancy problem might be due to an expansion in the number of federal positions over the years.

Watch more on vacant Obama administration jobs »
"The number of appointees has vastly expanded throughout the 20th century, so there are simply many jobs to fill. Too many, critics say," said historian and CNN contributor Julian Zelizer. "Then the background investigation and vetting process has become extraordinarily thorough and involves multiple government bodies."
Zelizer notes that even the most "imperial" of presidents can't make this happen more quickly.
"The current process creates a huge lag between the time a president takes office and the time most positions are filled," he added.
CNN senior political analyst Gloria Borger said that the Obama administration might be having a harder time filling jobs than other administrations because its "requirements are so tough."
"First, the vetting process is so intrusive -- some would say over-the-top -- that lots of folks have said 'No thanks' rather than deal with it," she said. "And second, the administration's own rules, which say 'No ex-lobbyists allowed,' have kept lots of qualified people off of potential job lists."
While positions still hang in the balance, one conservative think tank argues that Obama has still taken the time to appoint a variety of policy czars that do not require Senate approval.
"They have a Great Lakes czar, they have all these different czars, a car czar and numerous other czars, who are making very important critical decisions of the government, but they don't have to go through Senate confirmation," said Brian Darling of the Heritage Foundation.
The prospect of a policy czar overriding them, observers note, might discourage good candidates for some of the executive Cabinet positions.
The administration, for its part, recognizes that confirmation jobs need to be filled.
"Do we have some more hiring to do? Sure. But are we able to make a lot of progress with the team that's in place right now? Absolutely," said deputy press secretary Bill Burton.
"So I think that, moving forward, the president feels good about his team and he's going to continue to put together a strong team," he added.
But others in the president's party are worried.
"There's every reason to be concerned," said Jim Manley, spokesman for Senate Majority Leader Harry Reid. "The president deserves to have his full complement of staff in the different agencies."
One factor affecting the nomination process includes background problems -- most notably seen with Cabinet secretaries who failed to pass muster.
Former Senate Majority Leader Tom Daschle of South Dakota was nominated by Obama to become the health and human services secretary. But Daschle later pulled out after it was revealed that he failed to pay over $100,000 in taxes.
The president also nominated New Mexico Gov. Bill Richardson to become the commerce secretary -- only to have him drop out because of an investigation into a company that once contributed to the Democrat.
And after making the pledge to appoint a Lincolnesque "team of rivals," Obama nominated Sen. Judd Gregg, R-New Hampshire, to the Commerce post. But the Republican senator later dropped out because of opposition to the president's stimulus plan and issues involving the 2010 census.
One Cabinet nominee who did make the cut lashed out at the nomination process last month.
"The clearance and vetting process is a nightmare," said Secretary of State Hillary Clinton. "It takes far longer than any of us would want to see. It is frustrating beyond words."

Clinton also said that anyone who has gone through the process notes that it's getting worse.
"Some very good people, you know, just didn't want to be vetted," she said. "You have to hire lawyers, you have to hire accountants. I mean, it is ridiculous."
E-mail to a friend

CNN's Louise Schiavone contributed to this report.
All About Barack Obama