(CNN) -- Despite word from the White House that "nobody is looking to make any news" this week, President Obama on Tuesday took a break from vacationing to announce his plans to nominate Ben Bernanke to a second term as head of the Federal Reserve.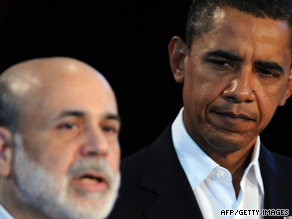 President Obama announces his plans to nominate Ben Bernanke to a second term.
"The man next to me, Ben Bernanke, has led the Fed through one of the worst financial crises that this nation and the world has ever faced," Obama said from Martha's Vineyard, a Massachusetts Island.
Obama made the announcement at Oak Bluffs Elementary School. A few dozen onlookers gathered outside the school to wave to the presidential motorcade as it arrived.
The president opened his remarks with an apology to reporters for "interrupting the relaxing I told you all to do."
Following his statement, Obama headed to a golf course in Vineyard Haven. His golfing partners included trip director Marvin Nicholson, White House advance Michael Ruemmler and Sam Kess, who works in the White House kitchen. Along the course, members of the Secret Service could be seen with guns in tow.
Obama also golfed on Monday, the first full day of his vacation. He also squeezed in a workout and played tennis with wife Michelle.
On his first vacation since taking office, Obama, his family and the first dog, Bo, are spending the week at a secluded, 28-acre private estate on the island.
The No. 1 priority on Obama's vacation agenda is "to get a little break," White House spokesman Bill Burton said Monday. "He certainly appreciates the hospitality of the folks who are here, but his desire here is to relax and spend time with the family."
Burton on Monday shot down rumors that the president has plans to golf with Tiger Woods this week, telling reporters that "nothing like that is on the schedule."
Burton also said there are no plans for Obama to visit the ailing Sen. Ted Kennedy, who is just across the Nantucket Sound on Cape Cod.
In addition to spending time with family and playing golf, Obama hopes to hit the books, Burton said.
The president's reading list includes five books: "The Way Home" by George Pelecanos, "Hot, Flat, and Crowded" by Thomas Friedman, "Lush Life" by Richard Price, "Plainsong" by Kent Haruf and "John Adams" by David McCullough.
In all, the books on Obama's list total around 2,300 pages, meaning the president would have to read close to 300 pages each day to polish off the list.
As for the rest of the week, Burton offered few details, saying the president himself doesn't even have a particular schedule.
"He's on vacation, so everything is a little bit loose," he said. "You wake up, you have some breakfast, you work out and then you decide 'What do I feel like doing today?' He's doing that just like anybody else."
The president is getting daily briefings. A member of the national security staff is on the island, and Obama also is receiving briefings by paper. If necessary, he'll have teleconferences with his advisers in Washington, Burton said.
Obama's vacation comes as voters across the country are jumping in on the emotionally charged debate over health care reform.
Burton said the president will talk to his advisers about the issue as needed, but has a lot of faith in his team working at the White House.

"So the president thinks that there is still a real possibility of getting a bipartisan plan through. He's going to continue to work towards that end," Burton said.
While there are no calls on the schedule, Burton said the president might make calls to individual members of Congress on health care "as appropriate."
E-mail to a friend

All About Barack Obama • Martha's Vineyard