From Ed Hornick
CNN






WASHINGTON (CNN) -- With health care negotiations stalled until Congress comes back from August recess, a top Democratic strategist says President Obama and his party need to seize control of the debate.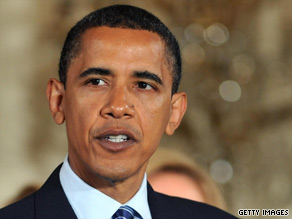 President Obama may face a backlash from liberals if a public option is stripped from a final health care bill.
"We need message discipline on the Democratic side," Democratic strategist and CNN contributor Donna Brazile said. "I can't speak for Republicans, but I can tell you, without message discipline, this has been a very difficult, uphill battle for the president."
Obama has spent the past week trying to put out fires sparked after his administration appeared to hedge on support for a government-run public option. Some of the greatest criticism is coming from liberals who are now threatening to vote against any bill that does not include such an option.
At a town hall meeting over the weekend, Rep. Maxine Waters, D-California, implored the president not to drop the public option plan and said his efforts to be bipartisan are futile.
"Yes, we know that you are a nice man, that you want to work with the opposite side of the aisle. But there comes a time when you need to drop that and move forward," she said. "We're saying to you, Mr. President, 'Be tough. Use everything that you've got. Do what you have to do. And we have your back.' "
At town hall meetings held by members of Congress in the past few weeks, angry voters have voiced concerns about government involvement in health care. Some have even resorted to violence and vocal anger.

Watch more on the public option debate »
New York Times columnist Paul Krugman, a liberal economist and Nobel Prize winner, said Monday that the debate over the public option is "dismaying in some ways."
"Perhaps the most depressing aspect for progressives, however, has been the extent to which opponents of greater choice in health care have gained traction -- in Congress, if not with the broader public -- simply by repeating, over and over again, that the public option would be, horrors, a government program," he wrote.
Conservative Democrats may soon hear more from liberals and progressives angry about the idea of dropping the public option.
This week, Obama's grass-roots volunteer network, known as Organizing For America, is urging its members to to show up at town halls and rally near local congressional offices.
But in Washington, talk of a Democratic civil war over the public option is weighing down the debate.
"I think the president has a very important responsibility here, and it's Democrats fighting Democrats," Republican consultant and CNN contributor Ed Rollins said Monday. "It's progressive Democrats versus 'Blue Dog' Democrats."
House Speaker Nancy Pelosi, D-California, also indicated last week that a public option is a must. "There is no way I can pass a bill in the House of Representatives without a public option," she told an audience in her home district in San Francisco.
So far, the public option has been cleared by three committees in the House as well as by the Senate Health, Education, Labor and Pensions Committee.
But House Majority Leader Steny Hoyer, D-Maryland, told reporters Friday on a conference call, "As I've said in the past, I'm for a public option, but I'm also for passing a bill. ... But, you know, we'll have to see, because there are many other aspects of the bill as well."
After Hoyer's conference call, an aide told CNN that the majority leader is in full agreement with the speaker about the need for a public option, and that a health reform bill will be hard to pass in the House without one.
And with the president vacationing in Martha's Vineyard, the tide may be turning against the public option idea.
"I'm afraid we've got to think about putting a lot of that off until the economy's out of recession. There's no reason we have to do it all now," Sen. Joe Lieberman, a Connecticut independent, said on CNN's State of the Union on Sunday.
Also on Sunday, Sen. John McCain, R-Arizona, said that "one of the fundamentals for any agreement would be that the president abandon the government option."

Watch more senators weigh in »
Meanwhile, a bipartisan group of six negotiators on the Senate Finance Committee -- the last committee that needs to clear health care legislation before it can be taken up on the Senate floor -- is aiming for bipartisanship and another viable option.
Sen. Chuck Schumer, D-New York, told NBC's "Meet the Press" that the group prefers "a bipartisan approach."
But, Schumer said, "We are now looking at the alternatives because it's looking less and less likely that ... the Republican leadership in the House and Senate will want to go for a bipartisan bill."
One of the alternatives is a parliamentary tactic known as reconciliation, which requires only a simple majority and can pass with only 51 votes, instead of the 60 needed to break a filibuster.
That option is infuriating some Republicans.
"That is really sort of denying democracy," Rep. Paul Ryan of Wisconsin told "Fox News Sunday."
Sen. Orrin Hatch, R-Utah, told NBC that the tactic "would be an abuse of the process."
A top Democrat has also expressed concern about the idea.
Sen. Kent Conrad, one of the Democrats working on a bipartisan bill, said Sunday that using reconciliation "does not work very well."
"When you examine the way reconciliation works, it was designed solely for deficit reduction. ... It never contemplated substantive legislation," he told CBS' "Face the Nation."
But any notion of a bipartisan bill is implausible, a former Clinton administration official said Monday.

"It is a myth that this administration ever thought that they'd get any Republican support for this," said James Carville, a CNN contributor and Democratic strategist.
"Let's wake up ... we're not transcending anything."
E-mail to a friend

CNN's Jim Acosta and Alex Mooney contributed to this report.
All About Health Care Costs • Democratic Party • Republican Party