To: Interested Parties
From: John King
Re: Monday Memo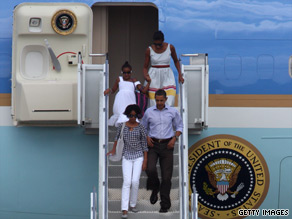 President Obama and his family arrive at Cape Cod, Massachusetts, on Sunday en route to a vacation on Martha's Vineyard.
(CNN) "No Public Events," is the headline of the White House in the week ahead, as President Obama and the first family look to enjoy a summer break on Martha's Vineyard.
Presidential vacations, however, rarely are as peaceful and "news-free" as the commander in chief would like, so one thing to look for in the week ahead is how often we see Obama in a setting other than, say, the ice cream shop or enjoying the spectacular sunset off Menemsha.
And with the president and Congress on break, Washington should -- emphasis "should" -- have a week of relative calm.
Not that the health care debate won't continue to ripple here and in events members of Congress are holding back home.
State of the Union
John King reinvents Sunday talk: more time for more politics.
9 a.m. ET Sunday

Two other big things to watch:
The political situation in Afghanistan: We could get early word on the vote count in the presidential race, and both the State Department and the Pentagon are watching warily to see if the disagreements between Afghan President Hamid Karzai and his challengers over the fairness of the election -- and the counting -- adversely impact the already tense security situation.
"Serious and deteriorating," was the assessment Admiral Michael Mullen, the chairman of the Joint Chiefs of Staff, offered us Sunday in a sober conversation about Afghanistan.

Watch Mullen's assessment of the situation in Afghanistan »
Fresh glimpses of economic strength -- or weakness -- here at home.
Dell, Burger King, Staples, Micros Systems and Tiffany & Co. are among the companies due to release earnings reports in the days ahead -- and Wall Street will be looking for signs that consumers feel more confident about spending.
Another closely watched report will be the Wednesday data on new home sales from the Commerce Department. And, on Friday, the University of Michigan releases its latest report on consumer confidence.
Two anniversaries as the week comes to a close:

One year since then-Sen. Barack Obama accepted the Democratic presidential nomination.
Four years since Hurricane Katrina made landfall along the Gulf Coast.
E-mail to a friend

All About Barack Obama • Afghanistan War • Martha's Vineyard