WASHINGTON (CNN) -- President Obama appealed Wednesday to faith-based groups to help garner support for his plan to overhaul the nation's health care system.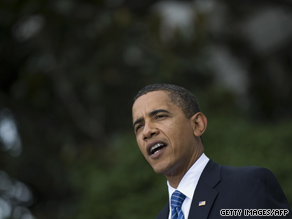 President Obama speaks at the White House Wednesday.
"I need you to knock on doors, talk to neighbors, spread the facts and speak the truth," he told religious leaders and reporters on a conference call that was streamed over the Web at faithforhealth.org.
"This debate over health care goes to the heart of who we are as a people," he said. "I believe that nobody in America should be denied basic health care because he or she lacks health insurance."
Some 140,000 people participated in the call, the coalition of more than 30 faith-based groups that organized the event said in a written statement.
Obama urged the listeners to reject misinformation about his plans, noting, "There are some folks out there who are, frankly, bearing false witness."
He referred to some assertions as "ludicrous," and cited as an example rumors that the government is planning to set up "death panels" to determine the fate of the nation's elderly.
"That is just an extraordinary lie," he said, adding that it was based on a provision in the House legislation that would allow Medicare to reimburse someone who voluntarily sought counseling on how to set up a living will for the end of life.
"It gives an option that people who can afford fancy lawyers already experience," the Harvard-trained lawyer said.
In addition, the plan does not provide health insurance to illegal aliens, it does not represent a government takeover of health care and it would not lead to government funding of abortion, he said.
"These are all fabrications that have been put out there in order to discourage people from meeting what I consider to be a core ethical and moral obligation: that is, that we look out for one another; that is, I am my brother's keeper, I am my sister's keeper. And in the wealthiest nation in the world right now we are neglecting to live up to that call."

Watch a discussion of the emotion and rhetoric of some town hall meetings »
Obama, who took no questions, said the opposition was no surprise. "Throughout history, whenever we have sought to change this country for the better, there have always been those who wanted to preserve the status quo," he said. "These always boil down to a contest between hope and fear."
Prior to the call, Obama's director of domestic policy, Melody Barnes, said the president still believes that including a public option is the best way to achieve low-cost, affordable health care.

The public option has been a sticking point among some Republicans, who consider it to be the camel's nose under the tent of government-run health care.
But, she added, "he also said he's open to other ideas."
E-mail to a friend

All About Health Care Policy • Barack Obama • Centers for Medicare & Medicaid Services