By Lou Zickar
Special to CNN





Editor's note: Lou Zickar is the editor of the Ripon Forum, a centrist Republican journal of political thought published by the Ripon Society. He is a former aide to Rep. Mac Thornberry, a Republican from Texas.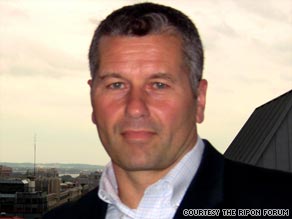 Lou Zickar says the town halls are revealing that citizens wonder what they're getting for their tax dollars.
(CNN) -- The biggest political story of the month so far is clearly the populist rage on display at town halls across the country. Democrats say this rage is manufactured; Republicans say it is real.
What can't be debated is that it is drawing a lot of attention, perhaps none more so than the town hall that Sen. Arlen Specter held in Lebanon, Pennsylvania, on Tuesday of this past week.
I know something about that part of the state. I used to work for Bob Walker, who represented that area for 20 years in the House of Representatives. In 1988, I was a member of the advance team that coordinated a Bush-Quayle bus caravan that traveled throughout the region.
To this day, I still have vivid memories of Dan Quayle throwing a perfect spiral in the gymnasium of Lebanon High School. The ball was caught, no words were misspelled, and all was right in that little corner of the Republican world.
The other thing I remember from that time were the people of Lebanon. They were, and I assume they still are, like the other Pennsylvanians I met and got to know -- decent, hardworking Americans who loved their families, cared about their communities and believed in the future of our nation.
In the few years I spent working on Bob Walker's staff, I have to admit that I never saw anything like the anger that was directed at Specter the other day. That said, I can't say that I'm all that surprised at the level of intensity. Lebanon is a very conservative town, and its residents are clearly concerned about some of the plans being proposed by Specter and his newfound Democratic allies in Washington, D.C.
Don't Miss
Still, what surprised me the most was not the attitude that area residents displayed toward Specter. It was, rather, the attitude he displayed toward them.
I've been to many political events over the years -- from rallies in Pennsylvania to town halls in Texas. But I've never been to one where a politician addressed people by a number and not their name. And yet that is exactly what Specter did. People had to take a number if they wanted to ask a question. When their turn was up, he called out the number instead of recognizing them by name.
At a time when many Americans are concerned that the federal government is going to take over the nation's health care system and turn it into one big DMV where people have to stand in line to see a doctor, Specter unwittingly played right into their fears. In doing so, he also gave his Democratic opponent a ready-made tag line in the primary next year: "I'm Joe Sestak -- you'll never be a number to me."
Truth be told, it's a tag line that would also work for his probable opponent in the general election, Republican Pat Toomey, should both of them make it that far. For the fact of the matter is, even though the American people have strikingly different views on what government should do, most, if not all, Americans believe that government should be on their side.
Bill Clinton believed this. "We need a new government for a new century," he stated in his Second Inaugural, "humble enough not to try to solve all our problems for us, but strong enough to give us the tools to solve our problems for ourselves."
Even Ronald Reagan believed this. In his First Inaugural Address -- the same speech in which he famously stated that, "Government is not a solution to our problem; government is the problem" -- he also expressed his core belief that limited government has a role to play and has a basic obligation to the American people. "It is not my intention to do away with government," he stated. "It is, rather, to make it work."
Unfortunately, the potential for government to play a positive role seems to have been forgotten in recent years. From the bungled response to Hurricane Katrina under George W. Bush to the massive growth of the federal bureaucracy under President Obama, Americans are left to wonder: Whatever happened to the concept of making government work?
And yet, this question is more important now than perhaps ever before. Times are tough. Budgets are tight. Families are seeing a good chunk of their paychecks being used to fund government at all levels.
In Pennsylvania alone, the average resident pays more than $10,000 each year in federal, state and local taxes combined, according to the Tax Foundation. What are taxpayers getting for their investment in return? If they were in Lebanon this past week, it would have earned them the privilege of being recognized by their senator as a number, instead of their name.
Which leads to a final question: Is it any wonder that people are angry?
The opinions expressed in this commentary are solely those of Lou Zickar.
E-mail to a friend

All About Arlen Specter • Health Care Policy • Taxes