WASHINGTON (CNN) -- The lead Republican senator in bipartisan health care negotiations said Tuesday that he urged President Obama this month to make clear he would accept a bill without a government-funded public insurance option.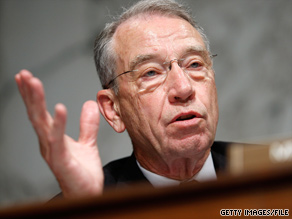 Sen. Charles Grassley says he asked the president to say he'd sign a bill without a public insurance option.
"I told the president then that he needed to make public whether or not he could sign a bill that didn't have a public option in it," Sen. Charles Grassley of Iowa said on Radio Iowa. "He didn't have to take a position against a public option, but would he sign a bill that wouldn't have a public option in it, and I thought a statement from him would be very helpful."
Grassley and the five other bipartisan negotiators met with the president on August 6 to discuss their efforts toward a health care bill that can pass the Senate Finance Committee in September, when Congress returns from its August recess.
On Saturday, Obama said the "public option, whether we have it or we don't have it, is not the entirety of health care reform."
Then on Sunday, Health and Human Services Secretary Kathleen Sebelius said a public option is "not an essential element" of overhauling the health care system.
Their comments were interpreted in media reports as a softening of the administration's support for the public insurance option.
However, Sebelius denied Tuesday that anything had changed in Obama's policy.

Watch Sebelius defend the plan »
"We continue to support the public option," she told a Medicare conference. "That will help lower costs, give American consumers more choice and keep private insurers honest. If people have other ideas about how to accomplish these goals, we'll look at those, too. But the public option is a very good way to do this."
Also Tuesday, White House spokesman Bill Burton expressed doubt that Grassley's plea to Obama had any impact on the weekend comments by Sebelius.
Earlier, White House Press Secretary Robert Gibbs said both Obama and Sebelius have consistently called for making health insurance affordable to all in a competitive market, and that they think a public option is the best way to do so but were open to other ideas.
The verbal maneuvering reflects the steep political challenge facing a White House trying to balance the competing priorities of the more liberal House of Representatives and the more conservative Senate.
Liberal Democrats are pushing hard for the inclusion of a public option, while more conservative Democrats are reluctant to sign on to a plan that critics claim will undermine the private health insurance system.
Grassley has made clear for months that he and nearly all Republicans oppose a public insurance option. In addition, Democratic Sen. Kent Conrad of North Dakota, who is part of the Senate Finance Committee negotiations with Grassley, said over the weekend that the public option lacks enough support to win Senate approval.
The bipartisan Senate negotiators are considering nonprofit health insurance cooperatives as an alternative to a public option. Such cooperatives, which already have been established in cities such as Minneapolis, Minnesota, and Seattle, Washington, are designed to provide better coverage at a lower cost for their members in part by funneling profits back into the system.

Watch more on the White House message on health care reform »
They are also designed to help alter the larger health care landscape by forcing private competitors to lower their prices. Liberal critics note, however, that membership in a cooperative is not free. Cooperatives can -- and often do -- reject prospective members, and are therefore less likely than other public alternatives to help reach the goal of universal health coverage.
Conrad told CNN's "American Morning" on Tuesday that the business model behind cooperatives has been "very successful" and "would certainly contribute to holding down" soaring health costs. He also warned that such an option wouldn't be the chief driver in decreasing health care costs.
"If you believe competition helps drive down costs, then [the cooperatives] would certainly contribute to holding down costs," Conrad said. "I think it's very important not to over-promise here. The Congressional Budget Office tells us the big levers in terms of affecting cost lie elsewhere."
He said reducing costs requires "reforming the delivery system in this country to move to the kinds of integrated systems like Mayo Clinic and Cleveland Clinic that work so well in holding down costs and delivering high quality care and other reforms -- the insurance market reforms and changing the tax subsidy to health care."
Doctors at the Mayo Clinic and Cleveland Clinic are paid fixed salaries for their services. In most other hospitals, doctors are paid fees for each service they perform, a structure that critics say drives up health care costs.
Citing health care cooperatives, Conrad mentioned Land O'Lakes, Ace Hardware and the Group Health Cooperative in Washington state. He said Group Health has been in existence for more than 50 years, has 600,000 members and is "doing extremely well."
"In fact, it's one of the top-rated plans in all of Washington state, and how they function is they actually own a hospital, they have doctors that work for them, they actually provide health care. But there are different models that cooperatives could choose. It would be dependent on what the membership decided. That's how cooperatives are run," Conrad said.
Conrad said he envisions a plan similar to Group Health, "where hundreds of thousands of people have gotten together and they've decided that they want to provide an option to for-profit insurance companies."
"If you look at what they've done, they have all of the things that most people are saying are necessary," such as electronic medical records and emphases on prevention and patient-centered care, Conrad said.
"That's really what the American people want," he said.
While Conrad believes the Senate won't approve a public option, fellow Democratic Rep. Anthony Weiner of New York, interviewed separately Tuesday on "American Morning," said the public option is crucial for reform and that the cooperative idea is weak, lacking the track record or the immediate clout for generating reform.
Weiner said it would take years for a cooperative to be strong enough to negotiate lower prices and asserted that "we've seen no signs they've been able to hold costs down."
He also raised doubts about the assertion that there aren't enough votes for passage of a plan with a public option.

"If you get rid of the public option, you may buy one or two votes in the Senate," Weiner said. But he said many votes -- from 50 to 100 -- could be lost in the House.
Conrad, however, told CNN that the "best actuaries in the country" say that in "a reformed insurance market, which the rest of this bill will provide, that cooperatives could attract 12 million members, be the third largest insurer in the country, and be a very effective competitor."
E-mail to a friend

CNN's Ed Henry and Dana Bash contributed to this story.
All About Health Care Costs • U.S. Senate Committee on Finance • Group Health Inc.