To: Interested Parties
From: John King
Re: Monday Memo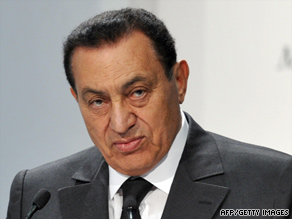 Egyptain President Hosni Mubarak will visit the White House on Tuesday.
(CNN) -- Health care remains, without a doubt, President Obama's top priority, though the week ahead will bring more of a public focus on international and security issues.
One key dynamic to keep an eye on is the reaction among leading House Democrats to the latest indication the White House is prepared to accept a health care bill that lacks a robust "public" or government insurance option.
"Not the essential element," is how Health and Human Services Secretary Kathleen Sebelius described the public option to us on CNN's "State of the Union" on Sunday.. "Very difficult," is how veteran House Democrat Eddie Bernice Johnson of Texas told us when asked how hard of a sell a health care bill absent a robust public option would be in among House Democrats.
This might be a good time for Obama and former President Clinton to swap notes about 1993-94.
State of the Union
John King reinvents Sunday talk: more time for more politics.
9 a.m. ET Sunday

Out of the box on Monday in Phoenix, Arizona, Obama addresses the Veterans of Foreign Wars National Convention. It's a platform to share his views on the escalation of the U.S. commitment in Afghanistan just as U.S. forces begin to quicken their pace of withdrawal from Iraq.
Back in Washington on Tuesday, a White House meeting with longtime Egyptian President Hosni Mubarak will turn attention to the Middle East, where the administration and traditional Arab allies such as Egypt and Saudi Arabia are unhappy with the lack of discernible movement in the Israeli-Palestinian conflict.
And Thursday's national elections in Afghanistan will keep a spotlight on the international stage and the uncertainties facing the Obama administration. It's safe to say the White House has profound worries about President Hamid Karzai's commitment to fight corruption and lead aggressively, but it's also safe to say the White House expectation is another Karzai term.
The market closed down at the end of last week because of doubts the worst was over. This week offers a few interesting tests:
• Earnings reports on tap from companies that offer key glimpses of consumer spending -- among them Home Depot, Lowe's Target and Hewlett-Packard.
• The Labor Department's Producer Price Index is released on Tuesday, along with Commerce Department figures on new housing starts.
• And the report on economic leading indicators comes Thursday morning.
And, finally, a few political notes for the week ahead:
• Fred Thompson and Bill Clinton will be lighting birthday candles on Wednesday.
• Southern governors gather in Williamsburg, Virginia, with the economy and health care topping the agenda.
• Mike Huckabee's political action committee gathers this week, through a series of house parties.

E-mail to a friend

All About Health Care Policy • Afghanistan • Hosni Mubarak