By Barbara Starr
CNN Pentagon Correspondent





WASHINGTON (CNN) -- In Hollywood, when a star passes away, the obituary usually centers on film or television work. So-and-so was a star of golden age of Hollywood....or so-and-so had a TV series back in the 1970s that nobody remembers.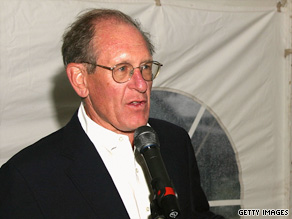 Kenneth Bacon was "a gentleman of vast intellect, humor and passion," writes CNN's Barbara Starr.
It's the same in Washington. When obituaries are published in this town, it's usually a slice of the history of the nation's political scene. Government officials who die are often remembered in categories of the past, labeled according to who was in the White House when the deceased had the big administration power job. It's like peeling away the layers of an Egyptian archeological dig.
But sometimes the person wasn't even all that well known, so the official obituary can't possibly convey the loss. You might not even read the obituary for Kenneth Bacon, who just passed away after a brutal fight with cancer. You probably don't know he was a reporter for the Wall Street Journal and then became chief spokesman for the Pentagon during the Clinton administration. (Yup, Monica Lewinsky was his secretary).
And you probably don't know that after that, Ken became the president of Refugees International, and a passionate advocate for the millions of displaced persons around the world.
Ken was a gift to this town. A gentleman of vast intellect, humor and passion who made a difference from the power corridors of world capitals to sprawling refugee camps in Africa, Iraq, and Afghanistan.
It was a freezing cold morning a couple of winters ago when Ken and I met for breakfast. I had come back from a reporting trip to Africa and was being the typical slightly showoff Washington correspondent, offering my views about how terrible it was that the administration wasn't doing more to assist to help alleviate the genocide in Darfur. After all, as the CNN Pentagon correspondent, I knew the U.S. military was perhaps the largest humanitarian relief organization in the world when its resources are ordered into action. Shouldn't they be used?
Ken politely of course pointed out I might want to broaden my reporting a bit, to look at the implications of imposing a U.S. military presence in Africa, even for desperately needed aid. How would governments and people react in the region? Could humanitarian relief organizations then maintain essential distance from American soldiers -- all questions I needed to consider.
But then breakfast stopped cold. A man paused at our booth to greet Ken. The two were old friends, they shook hands, and chatted. The other man suggested it was time for a tennis game. Ken said he couldn't play for a while. "I just had surgery for cancer," he said.
Don't Miss
The other man left and I leaned over to Ken, shocked beyond silence. I couldn't believe it. He looked great, and clearly wasn't going around making cancer his daily headline. Cancer, Ken said, was a chronic disease he was now going to "manage" with surgery and treatment.
That was the essential Ken Bacon.
I met him when he was the Pentagon spokesman. I was a very junior reporter for a military magazine at the time, but Ken always was generous with his time, always answered my questions and explained the complex world of the Pentagon and U.S. military operations around the world. This was before the country was attacked, Osama bin Laden was a name known mainly to the CIA operatives and U.S. military commandos in the shadows.
Ken did the spokesman's job the way it's supposed to be done. Holding regular press conferences, answering questions, offering facts and information. In recent years Ken was bemused by the era of spin and message. He adamantly believed facts stand on their merit. He also never played the dreadful game of letting a reporter walk away without full knowledge. If you failed to ask all the questions that needed to be asked, Ken would -- as he did with me -- gently suggest you broaden your inquiry to include all the facts. When you talked to Ken, you learned.
Ken and I often chatted about the nutty world of the 24/7 news business. We both had the reporter's fantasy, of broadcasting live from Darfur or Somalia, showing the world in an instant the faces of millions of suffering human beings so many governments so easily forget. Ken was still the reporter, gathering facts, wondering how to get a camera past those who might be hostile to getting the truth out.
But the cancer kept coming back. There were more surgeries. More treatments. And then on July 21 Ken published a deeply moving piece in the Washington Post explaining his melanoma began as a mole on his skin and had traveled through his bloodstream to his brain, where it was killing him. He had a message for those involved in the health care debate.
"My oncologist has spent hours filling out forms and arguing with the insurance company to arrange coverage for my chemotherapy. In exasperation, thinking I'd have more sway, he even suggested that I call my insurer's CEO to facilitate approval. That is time he could have spent talking to me or other patients. Now my wife and I are waging our own fight with the provider to arrange payment for my daily brain radiation, which has been rejected as "not medically necessary" even though the cancer in my brain is growing rapidly."
Ken died on August 15 surrounded by his deeply loving family and never forgotten by his friends around the world.
He just had one last thing to say in that article. "For me and other Americans suffering from advanced cancer, the health care debate this summer is no abstraction. It is a matter of life or death."
E-mail to a friend

All About Refugees International • Somalia • Darfur • The Pentagon