WASHINGTON (CNN) -- U.S. Sen. Jim Webb arrived in Myanmar on Friday where he is scheduled to meet with the reclusive country's military junta, his office confirmed.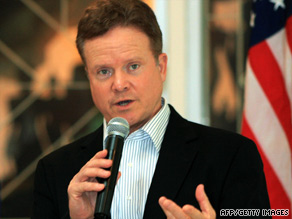 Sen. Jim Webb speaks at a press conference in Laos Thursday as part of a two-week Southeast Asia trip.
The Virginia Democrat is the first member of Congress to visit Myanmar in more than a decade. It will also be the first time a U.S. official meets with Myanmar's top official, junta leader Senior Gen. Than Shwe.
Webb is chairman of the East Asia and Pacific Affairs Subcommittee of the Senate Foreign Relations Committee.
Webb is scheduled to depart Myanmar -- also known as Burma -- on Sunday. His office would not discuss what the first-term senator plans to discuss during his scheduled meeting with Than Shwe.
Webb's visit -- part of a two-week, five-nation tour of Asia -- comes just days after the conviction of Myanmar pro-democracy leader and Nobel laureate Aung San Suu Kyi.
Suu Kyi, 64, was sentenced on Tuesday to 18 months of house arrest stemming from a May incident in which an uninvited American man swam 2 miles to her home.
The man, John William Yettaw, was sentenced to seven years of hard labor. Lawyers for both said they would appeal.
A Myanmar court initially sentenced Suu Kyi to three years in prison for violating her house arrest. But Than Shwe commuted it to the year and a half of house arrest.
Yettaw, a 53-year-old former military serviceman from Falcon, Missouri, stayed in Suu Kyi's home for two days. He testified in court that God had sent him to Myanmar to protect the opposition leader because he dreamed that a terrorist group would assassinate her. He was convicted of violating immigration laws, municipal laws and Suu Kyi's house arrest terms.
The United Nations Security Council on Thursday expressed "serious concern" over Suu Kyi's conviction and its political impact, and urged the government to "create the necessary conditions for a genuine dialogue" with the pro-democracy leader.
Also Thursday, the European Union adopted "a new set of targeted measures" against Myanmar in reaction to the verdict against Suu Kyi. Under the measures, members of the Myanmar judiciary responsible for Suu Kyi's conviction will be added to a list of people and entities subject to a travel ban and assets freeze.
Suu Kyi has spent 14 of the past 20 years in one form of confinement or another -- most recently under house arrest in a crumbling lakeside home.
The country's regime rarely allows her visitors, and foreigners are not allowed overnight stays in local households without government permission.
Suu Kyi, who won the Nobel Peace Prize in 1991, has said she doesn't know Yettaw, did not know of his plans and denied any wrongdoing. She told the court she did not report the intrusion because she did not want Yettaw or anyone else to get in trouble.
E-mail to a friend

All About Aung San Suu Kyi • Myanmar • Jim Webb • European Union