By Ed Henry
CNN Senior White House Correspondent





LIVINGSTON, Montana (CNN) -- Spend a day in this tiny town about 23 miles or so from where President Obama held a town hall meeting on Friday, and it's easy to see why his health-care push is facing big problems in Big Sky country -- even from the people he's trying to help.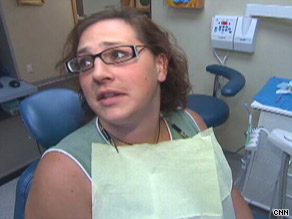 Sonja McDonald wants health care reform, but she doesn't want the government to be more involved.
I arrived here a couple of days ahead of the president in order to get a better read on his reform effort by talking to people like Sonja McDonald, who told me her husband's job as a diesel mechanic doesn't provide health insurance for them and their two children.
So I found McDonald at a remarkable local clinic getting a low-cost tooth extraction because she has not been able to afford a trip to the dentist in a couple of years. She voted for Obama and agrees with him that reform is needed, but said she's worried about the details.
"I believe that there is a health care crisis, I really do," she told me from a dentist chair in the clinic. "Do I believe that the government needs to be more involved? No! Because I think that they just -- whenever they get their fingers in the pot it just kind of turns black."

Watch what people in Big Sky country say about health care reform »
It's a common sentiment in this part of the country. There is great distrust for the federal government, especially after the string of bailouts, and that fatigue is clearly hurting the president's push for health reform. Just ask another Obama voter, David Lewis, whom I met in the quaint downtown here. Call CNN's Ed Henry with your questions about the health care debate, 1-877-266-4189
Lewis is publisher of The Mountain Pioneer, a monthly newspaper focusing on the outdoors, and he says people around here are just fed up with the mounting federal tab that's being racked up in Washington.
"We've just spent so much money on the stimulus and the TARP," Lewis said, noting that Social Security and Medicare are projected to be bleeding red ink soon too. "And then we're going to add another huge entitlement in terms of the public option."
Don't Miss
The movie "A River Runs Through It" was filmed near here. People love their fly fishing, which is all part of the rugged individualism so many people around here sport. I was reminded of this fact by Meg Zimmer, another Obama voter who's a physical therapist and says she wants the president to succeed on health reform but acknowledges it will be an uphill battle.
"I think the West is all about independence and do it my way and I don't need anyone to tell me what and how to do," said Zimmer as she pushed her two adorable infants through downtown on a stroller. "And I think when government gets too involved in our lives there's some -- there's some discomfort."
But here's the twist: The folks at the local clinic where I found McDonald in the dentist chair -- known as "Community Health Partners" -- are actually quite comfortable with the federal government. That's because it turns out that taxpayers pick up 50 percent of the clinic's $4 million annual budget.
"We're able to provide health care to someone who walks through the door regardless of their ability to pay," Dr. Mark Schulein, who runs the clinic, told me.
People like Sonja McDonald, who wants more of these clinics around the country -- even when I told her the federal government that she dislikes so much picks up much of the tab.
"The government being involved is fine," McDonald said. "It's just that when they try and overstep, when they try to say, 'No, this is what needs to be done.'"
This reminds me of when you hear about folks at Congressional town hall meetings saying they don't want changes to Medicare and they want to make sure the federal government stays out of the way -- even though the feds run the program now and have for decades.

As a senior adviser to the president told me the other day, White House officials realize the president's opponents have done an effective job of whipping up anti-government sentiment -- on a range of issues like the auto bailouts and bank bailouts -- to make people very suspicious of the government's motives on health care. That's a big reason why the president's push is in trouble and it's unclear whether he can pull out a comeback victory.
But this adviser also told me the president is determined to keep pressing and make his case that a little government intervention can actually help people. Just ask Sonja McDonald.
E-mail to a friend

All About Health Care Policy • Montana • Barack Obama