WASHINGTON (CNN) -- White House e-mails and transcripts of closed-door interviews with former Bush aides Karl Rove and Harriet Miers reveal involvement as early as May 2005 by Rove's office in the 2006 firings of nine U.S. attorneys.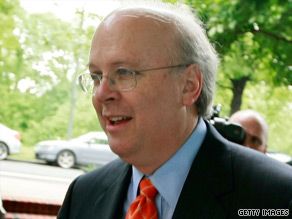 House Judiciary Committee sources say they expect Karl Rove will be called to testify again.
The House Judiciary Committee on Tuesday released nearly 6,000 pages of documents from the committee's investigation into the firings.
In May and June 2005, for example, Rove aide Scott Jennings wrote e-mails to Tim Griffin, also in Rove's White House office, pushing for the dismissal of New Mexico U.S. Attorney David Iglesias.
Jennings wondered "what else I can do to move this process forward" in one e-mail, and told Griffin in another that, "I would really like to move forward with getting rid of NM US ATTY." The impetus behind the push, according to the documents, was a disagreement in how Iglesias handled voter fraud cases.
Miers, then White House counsel, e-mailed in June 2005 that a "decision" had been made to replace Iglesias despite the attorney's top job review rankings from the Department of Justice.
Rove told the judiciary committee, according to transcripts of his interview, that Jennings was "freelancing" in his attempts to have Iglesias fired, but Miers, in her interview, said that a very "agitated" Rove telephoned her from New Mexico in September 2006, saying that Iglesias was "a serious problem and he wanted something done about it."
A month later, then-U.S. Rep. Heather Wilson, R-New Mexico, e-mailed Rove that Iglesias was "shy about doing his job" of bringing corruption charges against her opponent in the 2006 race, Patricia Madrid.
Don't Miss
Records also show that then-U.S. Sen. Pete Domenici, R-New Mexico, also was involved in pressing for Iglesias' replacement. The documents and transcripts show that Domenici spoke with White House Chief of Staff Josh Bolten about Iglesias in early October and either he or his staff spoke with Rove at least four times in October.
Iglesias was ultimately placed on a list of attorneys to be fired in late 2006.
Congress held hearings on the firings amid allegations that the prosecutors were sacked for political reasons. All were political appointees who served at the pleasure of the president, and the Bush Justice Department denied any impropriety.
Republicans scoffed at the document release, which they see as a highly partisan and fruitless Democratic effort to continue their decade-long pursuit of Rove, described by President George W. Bush as "the architect" of his presidential election victories.
"Despite all evidence to the contrary, House Democrats continue to falsely accuse former Bush administration official Karl Rove of wrongdoing in the dismissal of several U.S. attorneys. But the interviews reveal no evidence of wrongdoing in the firings," said the Judiciary Committee's ranking GOP member, Rep. Lamar Smith of Texas.
An internal Justice Department Inspector General report did not recommend criminal charges but did find civil violations of law by two former Justice Department lawyers and suggested possible sanctions by state bar associations in the firings.
House Judiciary Committee Chairman Rep. John Conyers, D-Michigan, said he would hand over all the released documents to special U.S. Attorney Nora Dennehy, who is investigating whether the firings provide the basis for possible criminal charges.
Conyers did not confirm Tuesday that he now plans to call Rove and Miers back to the committee to testify in open session. However, committee sources say they fully expect Rove and Miers to be called to testify sometime after the Congress returns in September.
The firings set off a firestorm of protest aimed at White House political operatives and top Justice Department appointees and eventually led to the resignation of Attorney General Alberto Gonzales.
"Today's release marks a powerful victory for the rule of law, and should be celebrated by all who cherish our constitutional system of separation of powers and open, transparent government," Conyers said.

E-mail to a friend

CNN Justice Producer Terry Frieden contributed to this report.
All About Karl Rove • U.S. House Committee on the Judiciary • Harriet Miers