By Ed Hornick
CNN






WASHINGTON (CNN) -- Members of Congress will come back from their summer break in September to a plate full of health care reform -- that's if they survive the latest rancorous and sometimes violent town hall meetings.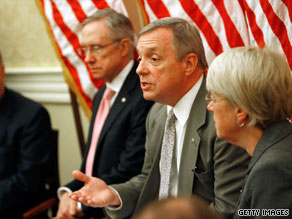 Sen. Dick Durbin, center, says protests disrupting recent town hall meetings go against "the democratic process."
Senators are getting an earful on the subject from constituents. House members, who began their recess a week earlier, also got a head start on hearing from residents in their districts, facing sometimes contentious comments.
But when Congress returns, members will be hard-pressed to continue negotiations and get something done fast.
At the same time, the Senate must pass spending bills before money runs out at the end of the fiscal year: the end of September. The House passed its spending measures before leaving town.
"I think they're going to have a very full plate," said Stuart Rothenberg of the Rothenberg Political Report. "And we know they're going to start with health care, but they're going to have to do appropriations, climate change. ... You can bet there will be a lot of other things are left to be done."

Watch CNN's Ed Hornick take a look at what's ahead for Congress »
Rothenberg warns that If the economy takes another dip, there will be some pressure for more action in terms of a second stimulus or changes in tax policy.
But he said it's likely that those other issues will be put on the back burner until a health care compromise is in order.

Watch more on rowdy town hall debates »
Bipartisanship has long been lost during this 111th Congress, and that could make the negotiations last even longer.
When President Obama took office in January, he pledged a new era of bipartisanship in Washington.
But that was then.
It wasn't long before Democrats, who control both chambers in Congress, exercised their power.
In February, after much debate on Main Street, on Wall Street and in the halls of Congress, Obama's $787 billion economic stimulus plan was approved and signed into law. But the costs, like nearly all programs before Congress, created a tear in the unity Obama had touted during the 2008 presidential election and while taking office.
Only three Senate Republicans crossed the aisle to vote with Democrats, and one of those, Sen. Arlen Specter, switched parties shortly thereafter.
It's the philosophical differences over economic principles that some say are at the heart of the partisan divide.
The GOP, in an effort to recover from the past two elections, is trying to return to its small-government roots by opposing Obama's economic agenda.
In April, Congress approved a $3.4 trillion budget for the coming year, approving most of Obama's top spending priorities, including increasing in education, energy and health care spending. The plan passed without a single Republican vote in either the House or Senate.
But it was bipartisanship that lost out in the Democratic-controlled Congress' legislative push, critics say.
Republicans have long complained that Obama and Democrats have shut them out and don't listen to alternative ideas. Democrats, meanwhile, accused the GOP of playing politics by being the party of "no" instead of offering alternatives.
In essence, it's a battle of they said-they said, with negotiations stalling and vocal rancor increasing over government spending. That may be why Americans continue to have a negative view of Congress.
A new national poll indicates that Americans think the job their lawmakers have been doing deserves a grade of C-.
The CNN/Opinion Research Corp. survey released last week asked respondents to use a grading scale of A, B, C, D and F, where A is excellent and F is very poor. Five percent of those questioned gave Congress an A, 21 percent a B, 37 percent a C, 21 percent a D and 15 percent an F. The grade averaged out to a C-.
The poll was conducted July 31 to August 3, with 1,136 adult Americans questioned by telephone. The survey's sampling error is plus or minus 3 percentage points.
Nevertheless, it's the party with majorities in the House and Senate that get its way, given that they are all on board. For the most part, Democrats were -- until recently.
With regards to the health care debate, it's not just Republicans standing in the way of getting Obama's agenda passed; it seems to be the fiscally conservative "Blue Dog" Democrats, who have put something of a halt on pushing a health care reform plan forward. That has rankled many of the Democratic Party's factions, including liberals and progressives.

Watch more on the health care debate from two senators »
Although it's not a party civil war, House Speaker Nancy Pelosi and Senate Majority Leader Harry Reid may not only have to fight Republicans coming up but try to keep their proverbial house in order.
For its part, the White House has met with several members of the Blue Dogs, liberals and progressives. But Republicans are still opposed to key aspects of Obama's plan: an enormous price tag and the role of a government option that would rival private insurance companies, among other things.
Many of the challenges confronting Obama have resulted from the difficulties of the environment in which he governs. And before the health care reform debate blew up, it was climate change that found members of the House and Senate at odds with the president.
In late June, a White House-backed climate change bill passed 219-212 in the House, with virtually no Republican support. It has since been stalled in the Senate.
Even before that vote, news came in May that Supreme Court Justice David Souter would retire. Shortly thereafter, Obama nominated judge Sonia Sotomayor to replace him. After tensely divided confirmation hearings through the summer, the Senate voted 68-31 to confirm her last week. Nine Republicans voted in favor.
But not all bipartisanship has been lost in this session of Congress.
Most recently, the House (316-109) and Senate (60-37) approved additional billions in funding for the Obama administration's "Cash for Clunkers" program, part of the broader economic stimulus package.
The program, which pays people up to $4,500 for trading an older-model vehicle with low fuel efficiency for a new vehicle, was intended to run until autumn, but higher-than-expected participation caused the government to warn last week that the program would run out of money without an infusion from Congress.
Earlier in the year, Obama hailed bipartisanship in the passage of a bill expanding the State Children's Health Insurance Program by more than $32 billion over five years.

The Senate passed the expansion in a 66-32 vote. All those voting against the bill were Republicans, though nine Republicans voted in favor of the measure. The House passed a similar bill earlier in the month with a vote of 290-135, which included 40 Republicans.
In late June, Obama signed a bill giving the Food and Drug Administration the power to regulate the manufacturing, marketing and sale of tobacco. The Senate passed the bill 79-17 after passage in the House.
E-mail to a friend

CNN's Dana Bash, Craig Broffman, Evan Glass and Deirdre Walsh contributed to this report.
All About U.S. Congress • Health Care Policy