MEXICO CITY (CNN) -- President Obama arrived Sunday evening in Guadalajara, Mexico's second-largest city, for a day and a half of talks with Mexican President Felipe Calderon and Canadian Prime Minister Stephen Harper.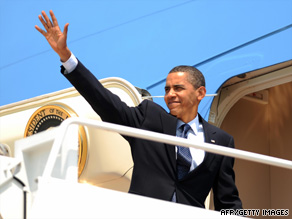 President Obama boards Air Force One on Sunday for the flight to Mexico.
A broad range of issues is expected to be discussed -- including the economy, drug violence and the environment -- but no major announcements are expected, officials said in the days leading up the North American Leaders' Summit.
Obama will meet with Calderon before the three leaders gather at a working dinner Sunday evening, according to the White House.
"The themes of this summit are: one, economic recovery and competitiveness; two, citizen safety and security; and three, clean energy and climate change. All are core priorities of this administration," National Security Adviser Gen. James Jones said in a briefing last week.
More than 4,000 policemen and soldiers were maintaining a security perimeter around the building where the meetings would take place. As with previous summits, demonstrators were expected.
A key issue expected to lead the talks is the economy, as the U.S. economic downturn has affected its neighbors.
In May, the Mexican government announced that its GDP had shrunk by 5.9 percent in the first quarter. Exports to the United States and the rest of the world, a key component of Mexico's GDP, was down considerably because of decreased global demand, according to the Organization of Economic Cooperation and Development.
Canada has complained about "Buy American" provisions in parts of the U.S. economic stimulus package, which it says can harm trade between the two partners. Harper is likely to raise the topic during talks.
The summit follows one of Mexico's deadliest months in its fight against drug cartels.
More than 10,000 people, including more than 1,000 police officers, have been killed since Calderon began an offensive against the cartels in 2006. But reports of human rights abuses by soldiers fighting the drug traffickers have recently attracted attention in the United States, and about $1 million of counternarcotics aid could be withheld as a result.
Calderon is also expected to press the issue of the long-stalled permission for Mexican trucks to roll on U.S. highways, officials said. Despite a stipulation in the North American Free Trade Agreement, U.S. officials have not allowed Mexican trucks into the United States. A pilot program was canceled by Congress last year, and Mexico retaliated with $2.4 billion in tariffs on select American products.
"The bottom line is that what affects our bordering neighbors has the potential to affect us all, so we want to be certain that we have the tightest and best possible cooperation," Jones told reporters.
E-mail to a friend

CNN en Español's Mario Gonzalez contributed to this report.
All About Barack Obama • Canada • Mexico