From Rebecca Sinderbrand
CNN





(CNN) -- The Senate's second-ranking Democrat slammed recent town-hall protests over health care on Sunday, insisting they violate "the democratic process," while the Senate's top Republican accused Democrats of "attacking citizens" with such complaints.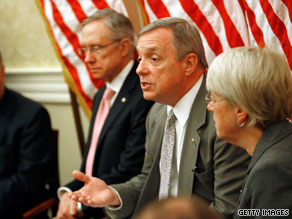 Sen. Dick Durbin, center, says protests disrupting recent town hall meetings go against "the democratic process."
Speaking to CNN's "State of the Union," Sen. Dick Durbin, D-Illinois, said: "We have these screaming groups on either side. That isn't helpful. Let's be honest about this. Town meetings are not bean bag. I've had hundreds of them, and sometimes folks get upset. And that's part of America, part of our process.
"But this is clearly being orchestrated, and these folks have instructions. They come down from a Texas lobbyist in Washington."
Durbin said that when "there's a group of people honestly sitting in the middle trying to ask the important questions and get the right answers, and instead someone takes the microphone and screams and shouts to the point where the meeting comes to an end, that isn't dialogue, that isn't the democratic process.
"We need to respect free speech, but we need to respect one another's rights to free speech, too. When these people come in just to disrupt the meetings, no, that isn't right," Durbin said.
On "Fox News Sunday," Senate Minority Leader Mitch McConnell, R-Kentucky, said such complaints were "absurd."
"I think attacking citizens in our country for expressing their opinions about an issue of this magnitude may indicate some weakness in their position on the merits," McConnell said. "And I also think it's particularly absurd for the Democrats, who have over an $8 million e-mail list over at the DNC (Democratic National Committee) called Organize America, to be criticizing citizens for being organized.
"Frankly, the truth of the matter is we don't know who's organized and who isn't. The point is the issue, the substance. They need to deal with it. Americans are concerned about it. "
On CNN, Durbin defended the White House's new effort to track and rebut rumors about the president's health care plan, following Republican criticism that the move was intended to intimidate opponents.
"What I can tell you is that the White House is not trying to collect names of any Americans. What they're trying to do is post on some of these Web sites a rebuttal to some bad information," he said, pointing to rumors that provisions in the proposal might be used to fund abortions, cover undocumented immigrants or raid Medicare funds. "There's so much bad information out there, you can understand the effort to at least let people hear both sides of the story."
Both Durbin and Sen. John Cornyn, R-Texas, signaled the precarious status of any "public option" -- a possible government-run insurance plan -- in the final version of any health care legislation. Cornyn called the idea a deal-breaker. Durbin repeated a reluctant willingness to sacrifice the idea to assure passage of a bill.

Watch Durbin, Cornyn discuss situation »
The idea is not considered likely to be included in the final Senate version of the bill, although a modified public option remains in the House version of the legislation.
Cornyn said one possible administration proposal might have GOP support: an extension of unemployment benefits.

"I think we need to take a close look at that. We don't want to provide a disincentive to work, but where people are out of work and they need some help, sure. We're open to that," he said.
President Obama calls reforming health care the centerpiece of his current domestic platform.

E-mail to a friend

All About Health Care Issues • Dick Durbin • Mitch McConnell • John Cornyn