By Roland S. Martin
CNN Contributor





Editor's note: A nationally syndicated columnist, Roland S. Martin is the author of "Listening to the Spirit Within: 50 Perspectives on Faith" and "Speak, Brother! A Black Man's View of America." Visit his Web site for more information.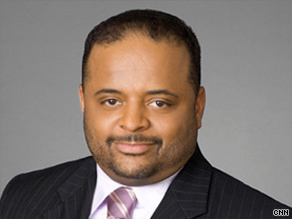 Roland S. Martin says more use should be made of the prestige and contacts of former U.S. presidents.
(CNN) -- Much has been made of the involvement of former President Bill Clinton in the freeing of two Current TV journalists held in North Korea and facing 12 years of hard labor.
But considering that American taxpayers continue to pay for their office space, security detail and other perks of the office of a former president, why not put Jimmy Carter, George H.W. Bush, Clinton and George W. Bush to work for the good of the country?
There seems to be a tradition in this country of former presidents spending their time giving speeches, raising money for their presidential libraries, writing their memoirs and staying out of the way of the current occupant of the White House.
I get that. You had your shot and you want the new person to have their day in the sun and do it that way. Yet letting that experience and solid relationships go to waste makes no sense to me.
Don't Miss
I strongly believe one of the mistakes President George W. Bush made when he was in the White House was not pulling his father, President George H.W. Bush, into the mix to help build an international alliance when he chose to go to war in Iraq. When asked, he said he consulted a higher power -- God -- as opposed to his dad.
We've seen former President Jimmy Carter travel around the world, overseeing elections in various hot spots, and bringing his credibility to bear on some of the most critical issues the world has faced.
President George W. Bush did tap former presidents Clinton and George H.W. Bush to lead the fundraising effort for the rebuilding of the Gulf Coast after Hurricane Katrina.
Although not presidents, when Navy pilot, Lt. Robert Goodman, was being held in Syria in 1983, the Rev. Jesse Jackson Sr. led a delegation of ministers and others to help free him. President Ronald Reagan was none too happy to see Jackson go, but the nation was grateful when he returned with our soldier.
During the 1980s, President Reagan didn't have a lot of goodwill among Latin American leaders. But Speaker of the House Jim Wright did. And instead of focusing on the left and the right, they put their energy into what is good for the United States of America.
We have enough egos in Congress and Washington. President Obama and Secretary of State Hillary Clinton should be commended for remaining in the background and working the back channels to free the two female journalists in North Korea. And when the pictures were beamed back to America, it was Bill Clinton getting all of the attention, and that was deserved. But it also was important for the focus to remain on the women involved and not the players involved.
So what do we learn at this teachable moment? We learn politicians and public policy advocates need to put aside the silliness we see every day and realize that people who might have their differences can come together on common purposes.
Who in the world thought that the Rev. Al Sharpton, former Speaker of the House Newt Gingrich, and New York Mayor Michael Bloomberg could sit in the White House together and join hands on the issue of education? We need more partnerships like that. We need leaders who put the common good ahead of their own self-interest.
With all of the trouble spots in the world, and the enormous issues we face, it's not just about what President Obama, Secretary Clinton and others are doing. Folks, this is all hands on deck. Anybody and everybody can make a contribution to make this a better world. We just need the courage to ask.

The opinions expressed in this commentary are solely those of Roland S. Martin.
E-mail to a friend

All About Barack Obama • Bill Clinton • North Korea • Hillary Clinton