WASHINGTON (CNN) -- A new national poll indicates that support among Americans for the war in Afghanistan has hit a new low.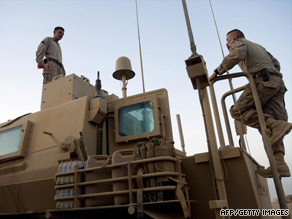 U.S. Marines prepare equipment in Helmand Province, Afghanistan, last month.
Forty-one percent of people questioned in a CNN/Opinion Research Corp. survey released Thursday say they favor the war in Afghanistan -- down 9 points from May, when CNN polling suggested that half of the public supported the war.
Fifty-four percent say they oppose the war in Afghanistan, up 6 points from May.
"Afghanistan is almost certainly the Obama policy that Republicans like the most," CNN Polling Director Keating Holland said. "Nearly two-thirds of Republicans support the war in Afghanistan. Three-quarters of Democrats oppose the war."
A record 44 United States troops were killed in Afghanistan in July, and 11 have been killed this month.
Don't Miss
Four American troops were killed Thursday in the western part of the country when their vehicle hit an improvised explosive device, NATO's International Security Assistance Force said.
The CNN/Opinion Research Corp. poll was conducted July 31 through August 3, with 1,136 adult Americans questioned by telephone. The survey's sampling error is plus or minus 3 percentage points.
E-mail to a friend

CNN Deputy Political Director Paul Steinhauser contributed to this report.
All About Afghanistan