RALEIGH, North Carolina (CNN) -- A woman who had an affair with former Sen. John Edwards spent the day Thursday at the federal courthouse in Raleigh.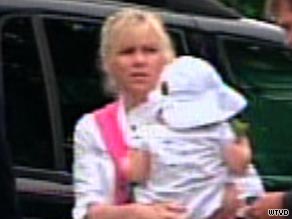 Rielle Hunter is seen arriving at a federal courthouse in Raleigh, North Carolina, on Thursday.
The reason for Rielle Hunter's appearance at the courthouse was not immediately clear. She entered the facility before 8:30 a.m. and left, carrying her toddler, after 5:30 p.m.
Edwards. Democrat, has acknowledged that he is under federal investigation over payments to Hunter's production company. He has denied wrongdoing.
Robin Zier, a spokesman for the U.S. attorney in Raleigh, declined to comment when asked whether Hunter was at the courthouse or whether a grand jury was meeting there Thursday.
"I can't comment on anything related to the grand jury," she said.
Hunter's attorney, Michael Critchley, also declined comment.
Edwards admitted last August that he had had an affair with Hunter, then 42, in 2006, when he was running for the Democratic nomination for president.
Hunter was hired to make a movie about Edwards, who was making his second try for the presidential nomination.

Watch Rielle Hunter arrive at the courthouse carrying a baby »
Edwards is under federal investigation over $114,000 in payments to Hunter's production company. Using money from a political action committee for personal matters is a crime.

"I am confident that no funds from my campaign were used improperly," Edwards said in a statement in May. "However, I know that it is the role of government to ensure that this is true.
"We have made available to the United States both the people and the information necessary to help get the issue resolved efficiently and in a timely manner."
E-mail to a friend

All About Rielle Hunter • John Edwards