By Jason Chaffetz
Special to CNN





Editor's note: Rep. Jason Chaffetz, a Republican, represents the 3rd District of Utah in Congress and is appearing in CNN.com's "Freshman Year" series, along with Rep. Jared Polis, a Democrat from Colorado.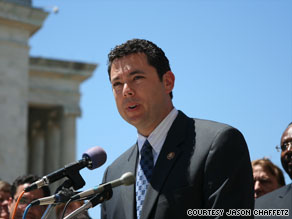 Rep. Jason Chaffetz says he's learned that helping the GOP succeed is the key to being effective in Congress.
(CNN) -- As a candidate for Congress two years ago, I spent my summer on the phone.
I called Republican delegates all over Utah's 3rd Congressional District hoping to share my message and jump-start my campaign.
As a relative newcomer, I knew that I had to beat the odds to win the Republican nomination against opponents with more money and better name recognition than I had. A few months later, with a 4 percent showing in the polls, I was excluded from a radio interview with the incumbent and another opponent on the basis that polls showed I wasn't a viable candidate.
Fast forward to July 2009. Halfway through my first year as a congressman from Utah, one of the most important things I have learned doing this job was the same lesson I learned the day I won the primary in June 2008: It is possible to beat the odds.
I won my race, despite being outspent by $600,000, running against an incumbent and using only volunteers to staff my campaign. As a freshman in the minority, my job is all about trying to beat the odds.
Given our numbers, my party isn't expected to pass bills, stop legislation, or take back the majority any time soon. But that's no reason not to try.
Another critical lesson for me was to take advantage of working on a team. A year ago I was playing an individual sport -- one candidate running against another. The goal was to win an election.
CNN National Report Card, The Second 100 Days
Have the last 100 days of the Obama administration been days of change or days of frustration? Let your voice be heard. Cast your vote at CNN.com/reportcard. Then, get the results from CNN's National Report Card.
Thursday, August 6, 8 p.m. ET

Today, I'm playing a team sport in which the opponent's team has 77 more players than mine. All those great policy ideas I got to talk about in theory during my campaign are unlikely to happen in practice until we win an election as a team.
Congress has increasingly become a winner-take-all system. As a result, our ability to legislate and drive the agenda is more dependent on the fortunes of our political party than on the level of support back home. That's not always a bad thing (especially if you happen to be the majority party). But it does lead to a higher level of partisanship than would otherwise exist.
The downside of partisanship is that we worry too much about credit and blame and not enough about solving the problems. But there is an upside. Issues and policies get thoroughly debated because each side is motivated to look critically at any policy proposed by the other.
The minority party plays a critical and important role in the national policy debate. Although we haven't had the numbers to stop every bad piece of legislation, we've very effectively communicated our concerns to the American people. Concerns about the spending, borrowing and taxing practices of the majority party continue to pick up momentum across the country.
Don't Miss
Teamwork isn't always about one party fighting another. In some cases, we are able to reach across the aisle and find solutions many of us can agree on. Against all odds, my first bill (now in the form of an amendment to another bill) passed the House.
The bill, which prohibits the use of whole body imaging as a primary screening device at airports, enjoyed broad bipartisan support and was consequently added to the transportation appropriations bill as an amendment. That bill, HR 2200, has passed the House and is expected to pass easily in the Senate.
I was once told that a minority freshman could not expect to get a bill to the floor, let alone pass it. But, through teamwork and bipartisan support, we were able to achieve an important victory.
Some of the lessons I've learned can come only with experience. I have had to learn to act quickly and decisively in the face of rapid-fire voting. I make that work by depending heavily on the principles that motivated me to run for Congress in the first place.
It may look like the House moves slowly, but for an individual member of Congress, the pace is frenetic. Between serving on three committees, six subcommittees, reading bills, proposing legislation and preparing for series after series of votes, I don't often have the luxury of deliberating on a decision for very long. The rapid-fire voting puts my principles to the test.
When it's time to make a decision, I've learned to reference those core principles I used in my campaign. I told voters my priorities were fiscal discipline, limited government, accountability and a strong national defense.
Voters elected me with the expectation that I would spend my political capital on those principles and priorities.
With each decision, I run through the list. Is it fiscally conservative? Does it limit or expand government? Are we holding people accountable for their choices or are we bailing them out? Does this decision enhance or reduce our national security? If a policy violates those principles, my constituents can be assured that the bill will receive a nay vote from me, regardless of how popular the bill may be.
I'm only halfway through my first year. There is still a lot to learn. The odds are still against my team and many of the solutions Congress has adopted are a direct violation of the principles I believe.
Nevertheless, I'm optimistic that if my party does what we say we'll do, sticks to the principles we share with the American people, and communicates our message effectively, we'll once again be driving the policy agenda in this country in a direction that leads to greater prosperity.
The opinions expressed in this commentary are solely those of Jason Chaffetz.
E-mail to a friend

All About Federal Budget • Political Parties • Business • Utah