By Dan Lothian
CNN White House Correspondent





WASHINGTON (CNN) -- If the White House was downplaying President Obama's first 100 days, it's downright ignoring the second hundred.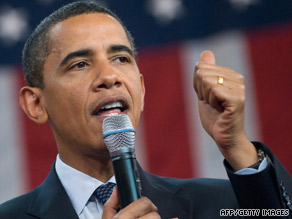 President Obama still enjoys broad support, but his approval rating has dropped some.
"It's the second hundred days?" quipped a senior administration official when told about the approaching date.
On reflection, the official was only too willing to take us behind the scenes as he settled back into his desk chair.
Two hundred days in, "the incline on the treadmill is not as steep," the official said, but added, "it's still moving very fast."
Obama has not slowed since coming into office. Restructuring the auto industry, a speech to the Muslim world in Cairo, Egypt, and his big push to get health care reform are just a few of the president's ambitious efforts since the last "Hallmark holiday."
Health care reform has proved to be especially difficult, because the White House isn't just battling Republicans but also fiscally conservative Democrats who are concerned about how to pay for it.
National Report Card
Have the last 100 days of the Obama administration been days of change or days of frustration? Get the results from YOUR vote.
Tonight 8 p.m. ET

And then there are critics who say Obama should have gotten more involved earlier in the nitty-gritty, instead of relying on Congress to condense several plans into something he could support.
In the end, an administration-imposed August deadline of getting bills from the House and Senate before the summer recess was abandoned. The goal now is to get health care reform by the end of the year.
Obama's handling of his ambitious agenda is starting to eat into his popularity. While he continues to enjoy broad support, polls show his approval rating is no longer in the mid-60s.
In the most recent CNN/Opinion Research Corp. poll, 56 percent of Americans approve of how Obama is handling his job, down 5 points from June. Also in the current poll, 40 percent disapprove of the job he's doing.
And 65 percent of Americans believe the president has tried to handle more issues than he should have, according to the same poll.
Don't Miss
Despite all this, behind the scenes, deputy press secretary Josh Ernest says staffers remain dedicated and are "still invigorated by the opportunity so far. They were under no illusion about the amount of hard work that had to be done."
So what does 200 days in office boil down to?
"There's a certain rhythm and level of familiarity," Ernest said. "We understand how things work ... and we're settling more into a groove."
The closest the White House has come to recognizing this milestone is a recent weekend retreat attended by Cabinet members and senior staffers. It was billed as a chance to assess the past six months and look ahead to the next six.
But a senior administration official said it was also a chance to "make sure that everyone was on the same page."
As the administration moves ahead to the next 100 days, advisers expect Obama to continue his balancing act of focusing on his domestic and foreign policy agenda. A senior administration official said Afghanistan will be a focus, and "we'll be watching how things stabilize in Iraq."

And while the official did not want to characterize Iran as a thorn in the side of the United States, that country and its nuclear ambition will continue to be a high priority.
The president may have a lot on his plate, but Iran is a place that one official said Obama "watches on a daily basis."
E-mail to a friend

All About Barack Obama • Health Care Policy • Iran