WASHINGTON (CNN) -- The full Senate began deliberations Tuesday afternoon on the nomination of federal Judge Sonia Sotomayor to become the nation's first Hispanic Supreme Court justice.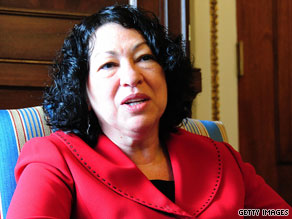 Sonia Sotomayor could become the nation's first Hispanic Supreme Court justice.
President Obama's first nominee to the nation's highest court was hailed by Democrats as a fair and impartial jurist who represents the ideals of equal opportunity, while Republicans warned she would be a judicial activist for liberal positions.
"This is a nominee who has had more experience on the federal court than any nominee to the Supreme Court in decades," noted Sen. Patrick Leahy, D-Vermont, chairman of the Senate Judiciary Committee that approved Sotomayor's nomination after a four-day hearing. "She's a restrained, experienced and thoughtful judge who has shown no bias in her rulings. ... Her record as a judge has been one of rendering decisions impartially and neutrally."
However, Sen. Jeff Sessions of Alabama, the ranking Republican on the Judiciary Committee, called Sotomayor's testimony to the panel vague and misleading regarding her judicial philosophy and intent. He said a close reading of her past speeches showed a leaning toward judicial activism that was "contrary to the underpinnings of the American justice system."
"Do they believe that the Constitution can be made to say what one wants it to say?" Sessions asked.
"Regretfully I was not able to support her nomination in committee, nor will I support her nomination in the full Senate," he said.
However, six Republican senators have announced their intention to support Sotomayor, making confirmation by the Democratic-controlled Senate a virtual certainty.
A confirmation vote is expected by Thursday. Legal sources say a White House swearing-in ceremony could happen as early as Friday.
Sotomayor, 55, would be 111th person to sit on the Supreme Court, and the third woman justice.
Last week, Sotomayor's nomination cleared a sharply polarized Senate Judiciary Committee, with one Republican joining the panel's Democrats in sending the nomination to the full Senate on a 13-6 vote.
Democrats have praised Sotomayor's 17-year record as a federal judge and her made-in-America story as a minority woman who rose to success through hard work and opportunity.
Republicans, however, have questioned her judicial neutrality, complaining about speeches in which she made controversial statements, including her hope that a "wise Latina woman, with the richness of her experiences" would reach a better conclusion than a white man "who hasn't lived that life."
Underlying the debate over Sotomayor is the larger political question of whether the Republican Party risks alienating Hispanic voters by opposing the first Latina nominee. The party's share of the Hispanic vote dropped sharply in last year's presidential election.
"Any GOP resistance to the Sotomayor nomination further reinforces in the minds of Hispanic voters the disconnect between Republicans and Hispanics," argued Fernand Amandi, vice president of Bendixen & Associates, a Florida-based public opinion research firm.
On Monday, the party's 2008 standard bearer, Arizona Sen. John McCain, became the latest Republican from border states with large Hispanic populations to oppose Sotomayor. Sens. John Cornyn and Kay Bailey Hutchison, both of Texas, as well as McCain's fellow Arizonan Jon Kyl previously announced they would vote against the nominee.
In a speech on the Senate floor, McCain expressed worries that Sotomayor's record and speeches revealed a judge who will try to "amend the law to fit the circumstances of the case, thereby substituting herself in the role of a legislator."
"Judicial activism demonstrates a lack of respect for the popular will that is at fundamental odds with our republican system of government," McCain said.
The lone Republican on the Judiciary Committee to back Sotomayor -- conservative Sen. Lindsey Graham of South Carolina -- said last week he also shares concerns about her impartiality.
Some of her speeches "bugged the hell out of me," Graham said before joking that she was unlikely to be worse than the justice she is replacing, David Souter, a liberal.
"She can be no worse than Souter from our point of view," he said to fellow Republican Sen. Charles Grassley of Iowa, who is opposing Sotomayor.
Democrats on the Judiciary Committee, however, offered strong support for Sotomayor. Sen. Dianne Feinstein, D-California, said last week that she sees Sotomayor as "a most impressive person on a number of different levels."
Referring to Sotomayor's judicial record, Feinstein said she found "no example of infidelity to the law."
Sen. Arlen Specter of Pennsylvania, a former Republican and the longest-serving member of the panel, said Sotomayor was the best nominee of the 11 he has reviewed over the years.
Specter praised the "wise Latina" comment, saying: "If a woman didn't stand up for women, I wouldn't think much of her."
Obama's Democratic Party holds a 58-40 edge in the full Senate, with two independents considered part of the Democratic caucus.

E-mail to a friend

All About Sonia Sotomayor • U.S. Senate • U.S. Supreme Court