WASHINGTON (CNN) -- After a "pep talk" from President Obama, Senate Democrats said Tuesday they believe Congress will pass a bipartisan health care bill this year.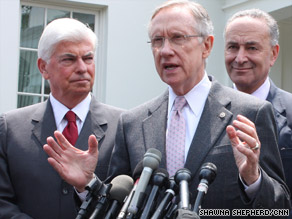 Sen. Harry Reid speaks after a meeting with President Obama about a bipartisan health care bill.
"We're going to do, if there's any way humanly possible, a bipartisan bill," Senate Majority Leader Harry Reid of Nevada said after a luncheon meeting of all the chamber's Democrats with Obama. "We'll continue to work with them as long as we have to."
Reid likened the meeting to "a coach giving a pep talk," saying the Democratic senators now were ready to "take on the world."
Senate Finance Committee Chairman Max Baucus of Montana, who is heading negotiations among six members of his panel on what would be the only bipartisan health care proposal so far, said he expected the process to succeed.
"We're going to get health care reform passed this year working together," Baucus said.
Congressional action on a health care overhaul has slowed due to strong Republican opposition. Neither chamber met Obama's desired goal of passing a bill before their August recess.
In particular, the Republicans and some Democrats reject a government-funded public health insurance option, which they believe will lead to a government takeover of the health care system. Democrats want a public option to ensure coverage is available to virtually all Americans and provide competition to private insurers.

See other sticking points in the health care debate »
The negotiations involving three Democrats and three Republicans on the Senate Finance Committee have so far ruled out a public option, instead focusing on non-profit health insurance cooperatives that would negotiate collective policies for their members.
Sen. Kent Conrad of North Dakota, who is one of the negotiators in the Finance Committee, said Monday that Democrats lack the necessary votes to pass a bill with a public option through the Senate.
"I think that, given the reality that we confront in the Senate, that reality is simply this -- there are not the votes for health care reform if a pure public option is part of it," Conrad said on the PBS program "The Charlie Rose Show."
"Every Republican save one is against it, and there are a number of Democrats who are as well. And so, if you do the math, it's very clear there simply is not the support for a pure public option," said Conrad.
For Republicans, the health care overhaul sought by Obama and Democrats is too sweeping.
"I think we will have some changes, hopefully, by the end of the year," Sen Jon Kyl, R-Arizona, told National Public Radio. "But I also think that it'll be easier if we try to do this kind of one step at a time, tackling specific problems with specific solutions rather than trying to overhaul the entire system."
Heading into the August recess -- the House break began last Friday while the Senate recesses this coming Friday -- Democrats focused health care comments on blaming private insurance companies for high costs and limited coverage.
"Polls show that when American people understand that much of this is reforming the insurance industry ... it's very popular," Baucus said.
Democratic legislators returning to home districts have encountered hostile receptions on health care at public events. Rep. Lloyd Doggett, D-Texas, told CNN of a public meeting where health care reform opponents loudly chanted "just say no" to drown out the proceedings.
He said the protest was set up by Republican supporters of the insurance industry and videotaped to create a perception of widespread public opposition. But Doggett warned that supporters of health care legislation must work harder to demonstrate their views.
"Unless more Americans who are suffering under the insurance companies get out there and express their opinion, write their letter to the editor, call in to these talk shows, if they don't get that message out, the insurance companies will win in September," Doggett said.
However, polls show public support for Obama's health care proposal is slipping.
"It doesn't require a complete transformation or a government takeover of our system, and I think that's what concerns people," Kyl said.

Baucus said the public understands the need to address rising health care costs that threaten the nation's future economic stability, but wants the solution to be bipartisan.
"The preference is do it together," Baucus said. "The American people want us to work together. The American people do not like partisanship. But the American people also don't like groups of people trying to kill something that should be done, should get passed: health care reform. And we know that we have to reform the health care system, because the costs otherwise are eating us alive."
E-mail to a friend

All About Barack Obama • Health Care Policy