By Elise Labott
CNN State Department Producer





WASHINGTON (CNN) -- Former President Clinton's trip to North Korea was the culmination of weeks of quiet diplomacy with Pyongyang and subtle public statements aimed at freeing American journalists Laura Ling and Euna Lee.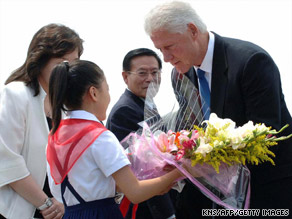 Former President Clinton arrives to a warm welcome in Pyongyang, North Korea, on Tuesday.
Having secured the journalists' release, will the trip eventually coax North Korea back to the negotiating table?
There was no shortage of envoys ready to travel to North Korea and negotiate the women's release.
Some heavyweights were turned down by the North Koreans: former Vice President Al Gore, a co-founder of the media outfit the women were working for when they were arrested, and New Mexico Gov. Bill Richardson, a former U.S. ambassador to the United Nations whose previous missions to North Korea included negotiating the release of a detained American.
Lower-level envoys like former U.S. ambassador to South Korea and current Korea Society Chairman Donald Gregg, Sig Harrison, an expert on North Korean nukes who has traveled there several times, and Han Park, a scholar at the University of Georgia, all offered their services.
Sen. John Kerry, chairman of the Senate Foreign Relations Committee, was also closely involved in coordinating efforts with the White House and State Department to free the women. According to sources intimately involved with the efforts, Kerry received an official invitation to visit Pyongyang to facilitate their release and open a larger dialogue on the nuclear issue after several weeks of quiet direct diplomacy between Kerry and his aides and North Korea.
Meanwhile, Washington and Pyongyang were sending signals that the time was ripe for such a mission.
After months of calling the charges against the women "baseless," Secretary of State Hillary Clinton in early July expressed the journalists' families' "remorse" for the incident and said the United States was seeking "amnesty" for them, suggesting the Obama administration was admitting their guilt in a bid to secure their freedom.
At a meeting of Southeast Asian nations in Phuket, Thailand, Secretary Clinton urged North Korea to come back to the table and renew a dialogue with members of the six-party talks aimed at ending its nuclear program. She reiterated that the United States and its partners in the talks would push a "package of incentives and opportunities, including normalizing relations" between Washington and Pyongyang.
Then, on July 27, North Korea's official news agency KCNA broadcast a statement by the foreign ministry saying there was a "specific and reserved form of dialogue" available between the United States and North Korea, a signal North Korea-watchers say indicated the government was getting ready to sit down.
In Washington, the merits of sending Bill Clinton or Kerry -- the only two envoys officially invited by the North Koreans -- were being debated. In the end, the sources familiar with the discussions say, the former president's combination of stature and "unofficial" status made him the best choice to undertake a mission that the United States and North Korea agreed should be cloaked in a label of purely "private and humanitarian."
The former is far more important to North Korea than the latter. In 1994, former President Jimmy Carter traveled to North Korea, during Bill Clinton's own administration, to negotiate an end to the first North Korean nuclear crisis. Before he left, he asked his State Department briefers, "what does [then-leader] Kim Il Sung want?"
According to a participant in the room, Carter answered his own question. "What he wants is my respect," Carter told them. "And I am going to give it to him."
That's what Bill Clinton's visit gave North Korea: a level of respect the North Korean state so desperately craves but rarely gets.
Whether that is enough to bring it back to the table on the nuclear issue remains to be seen.
North Korea needs to extract itself from the corner it has backed itself into with its recent nuclear tests and missile launches. Even as Bill Clinton sat with Kim Jong Il, Philip Goldberg, a top administration official, is in Moscow seeking Russia's support to implement tough sanctions against North Korea.

Bill Clinton's mandate was solely to discuss the fate of the journalists. But administration officials have said for months that releasing the women could provide a face-saving opportunity for North Korea to come back to the negotiating table if it so desires. It was probably no accident that Kim Kye Gwan, North Korea's top nuclear negotiator, met Bill Clinton at the airport and stood with him in pictures.
Those pictures of the ex-president standing next to North Korea's leader also gave an ailing Kim Jong Il the image of a robust man in charge, which has escaped him in recent months as suspicions about his health have dominated press stories about North Korea.
E-mail to a friend

All About Bill Clinton • North Korea • Kim Jong-il