By Jill Dougherty
CNN Foreign Affairs Correspondent





WASHINGTON (CNN) -- Secretary of State Hillary Clinton is embarking on her biggest international trip yet: Africa. Seven countries in 11 days. Issues as diverse as economic entrepreneurship and gender-based violence.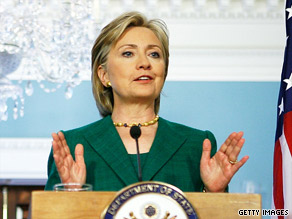 Hillary Clinton's trip to Africa will be her biggest international yet as secretary of state.
The trip comes just three weeks after President Obama's trip to Accra, Ghana. She will highlight many of the themes he struck.
The State Department notes it is the earliest trip by a secretary of state and a president to Africa of any previous U.S. administration. In an administration that prides itself on a plethora of "priorities," officials say they are putting Africa toward the top of the list.
The secretary opens her Africa trip in Nairobi, Kenya, at the U.S.-Sub-Saharan Africa Trade and Economic Cooperation Forum, delivering a speech Wednesday at the forum's ministerial opening ceremony.
In Kenya, she plans to meet with President Mwai Kibaki and Prime Minister Raila Odinga, encouraging them to proceed with their intention to rewrite the country's constitution. The East Africa country was hit with a wave of violence a year and a half ago following flawed presidential elections.
Also in Kenya, she will meet briefly with Somalia's president, Sheik Sharif Sheik Ahmed. His country is under intense pressure from Islamist extremist movements affiliated with al Qaeda, al-Shabaab and Hizbul Islam.
Clinton's Trip
Nations that Secretary of State Hillary Clinton will visit in Africa:

Kenya
South Africa
Angola
Democratic Republic of the Congo
Nigeria
Liberia
Cape Verde


On her next stop, South Africa, she will meet with the country's new leader, President Jacob Zuma, and the foreign minister. At the top of the agenda for the country, under severe economic pressure, are the crisis in neighboring Zimbabwe and the battle against HIV/AIDS.

The State Department describes her next destination, Angola, as a country with "enormous economic potential." Angola, in southern Africa, is one of the largest energy producers south of the Sahara and is a major supplier of both petroleum and liquified natural gas to the U.S. market.

There are some trouble spots on the secretary's trip, and the Democratic Republic of the Congo in Central Africa is one of them. For more than 15 years, eastern Congo was torn by civil strife and massive use of rape. Clinton will meet with some of the victims of that violence to underscore the United States' commitment ending gender-based violence.

In Nigeria, Secretary Clinton will see what the State Department calls "probably the most important country in sub-Saharan Africa." With 140 million people, it is a major source of petroleum imports for the United States. The secretary will discuss security in West Africa, democratic development, fighting corruption and promoting economic development with the Nigerian government.

In Liberia, founded by slaves from the United States, Clinton will reaffirm U.S. support for President Ellen Johnson Sirleaf, the only female African president. Besieged by violent conflict for 20 years, the West African nation, still fragile, now is strengthening its democracy, and Clinton will highlight development assistance.
Don't Miss
Last stop: Cape Verde, which the State Department calls "an African success story." The island nation, off the coast of West Africa, is democratically run and well-managed.
In its briefings for reporters on Clinton's African trip, the State Department has not specifically stressed human rights although, as with other parts of the world, it links development and human rights.
Amnesty International Executive Director Larry Cox, in a letter to Clinton, is urging her to discuss human-rights concerns with the African leaders she will meet this week.
"Failure to discuss human rights abuses in a meaningful way," he says, "would send the wrong signal about the seriousness with which the United States views the human rights situation in those countries."
China has launched a broad economic outreach to Africa. Asked whether Clinton's trip is a way of sending a message to Beijing, Assistant Secretary of State for African Affairs Johnnie Carson said, "Our presence there has nothing to do with anyone else's operations on the continent. The mention of our colleagues from Asia is a Cold War paradigm, not a reflection of where we are today."
Evaluating the prospects for Clinton's African trip, J. Stephen Morrison of the Center for Strategic & International Studies said Clinton "may be signaling through the scope and timing of her trip that Africa has graduated into a mainstream U.S. foreign policy priority and that she intends to guide U.S. policy. That would be a significant shift."

E-mail to a friend

All About Africa • Kenya • Hillary Clinton