(CNN) -- Hoboken, New Jersey, Mayor Peter Cammarano III -- one of dozens of politicians and rabbis arrested last week in a corruption scandal -- has resigned, the city attorney said Friday.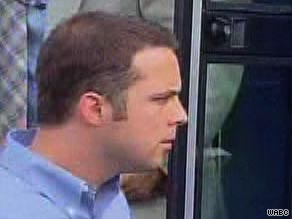 Hoboken, New Jersey, Mayor Peter Cammarano III is accused of taking thousands of dollars in bribes.
Steve Kleinman said City Council President Dawn Zimmer will be sworn in immediately as acting mayor. He said Cammarano's letter of resignation, delivered to the city clerk at 9:15 a.m., said his resignation would be effective at noon Friday.
The Democratic Hoboken mayor was one of 44 people arrested in last week's federal corruption probe.
In his letter to the city clerk, Cammarano, 32, denied all criminal wrongdoing, but said the charges have disrupted the city government and his ability to perform mayoral duties.
"It had been my hope and expectation that I could remain in office and perform my official duties until I had the opportunity to resolve the legal charges against me in court," he wrote.
"Regrettably, it has turned out that the controversy surrounding the charges against me has become a distraction to me and an impediment to functioning of Hoboken government."
He apologized to Hoboken residents for the "disruption and disappointment" the case has caused, but said, "I am innocent of any criminal charges and I intend to fight the allegations against me."
Authorities said that 29 public officials and associates took hundreds of thousands of dollars in bribes, and that 15 people -- including five rabbis -- engaged in money laundering.

Read about some linked to investigation »
One of the federal complaints alleges that Cammarano took about $25,000 in bribes from a government witness posing as a real estate developer.
Dennis Elwell, 64, the Democratic mayor of Secaucus, in northern New Jersey, resigned Tuesday after being charged with accepting $10,000 from a confidential informant.
Elwell's attorney, Thomas Cammarata, said the mayor had decided that resigning was in the best interest of his family and the people of Secaucus, but was not an admission of guilt.
"Dennis pleaded not guilty to the charges, is presumed innocent and will vigorously defend the unproven allegations made against him," the attorney said.
Other city leaders arrested include Anthony Suarez, 42, the Democratic mayor of Ridgefield, New Jersey, and Leona Beldini, 74, the Democratic deputy mayor of Jersey City, prosecutors said.

Earlier this week, Democrats L. Harvey Smith and Daniel Van Pelt -- two members of the New Jersey State Assembly who were among the officials arrested in the probe -- were stripped of their legislative pay and benefits, Assembly Speaker Joseph J. Roberts Jr. announced.
When the arrests were announced July 23, prosecutors said investigators had searched about 20 locations in New Jersey and New York to recover "large sums of cash and other evidence of criminal conduct," and executed 28 seizure warrants against bank accounts that they believe were involved in laundering money.
E-mail to a friend

All About New Jersey • Hoboken • Secaucus