By John King
CNN Chief National Correspondent






Editor's note: On CNN's "State of the Union," host and chief national correspondent John King goes outside the Beltway to report on the issues affecting communities across the country.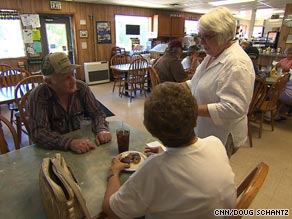 Gwen Wotring, far right, owns Bud's Drive Inn.
ST. MARIES, Idaho (CNN) -- Gwen Wotring is a small-business owner in this tiny Northwest Idaho timber town, a proud Democrat who says her British parents taught her "socialized government is not the bad thing that everybody reports it to be."
But from the lively conversations in her popular café -- Bud's Drive Inn dates to 1963 -- she knows she is outnumbered.
"It's difficult to be a liberal in this neck of the woods," she said with a smile.
And because of that, she knows the local congressman is in a difficult spot even though he wears the label "Blue Dog Democrat."
"It means somebody who thinks realistically and pragmatically about spending," Wotring said when asked to define the term heard so often in Washington these days because of the delicate health-care negotiations among Democrats. "I believe Blue Dog Democrats see their constituents more realistically than the real strong liberals. I really do."
Rep. Walt Minnick is the local congressman, a Democrat sent to Washington in a year when Idaho gave more than 61 percent of its presidential vote to Republican John McCain -- and it's worth noting that 2008 was considered a strong year for Democrats, here and nationally.
'State of the Union'
John King reinvents Sunday talk: more time for more politics.
9 a.m. ET Sunday

Minnick himself won his first term by fewer than 5,000 votes, and even many of his supporters attribute his win to a weak Republican opponent and a higher-than-normal Democratic turnout because of the historic Barack Obama candidacy.
"Politically, the district is very Republican," University of Idaho political science professor Bryan McQuide said. "Much of the district is solid red, in terms of red and blue America. There have only been three Democrats representing the district since 1964. It is mostly Republicans."
Like Don Griesel.
Over breakfast at Bud's, Griesel jokes that Ronald Reagan became his hero "despite being a little too liberal for me."
Griesel sees the Obama agenda as a recipe for fiscal disaster and applauds Minnick for opposing Democratic energy initiatives and for objecting to the Democratic health-care approach on several fronts, cost and the role of government chief among them.
"I've agreed with him and told him so," Griesel said of Minnick's early months in Washington.
But here's the rub: Even as he cheers on this Blue Dog Democrat, Griesel says he will vote Republican for Congress in the 2010 midterm elections.
"As we all know, Congress is controlled by the numbers game," Griesel said. "That's who gets to be speaker of the House and Senate majority leader. So, if he doesn't change his party, there is no way I can vote Democrat, because right now, they control the House, and that is what is killing America."
That negative perception of national Democrats, especially House Democrats, is not uncommon here in Idaho's 1st Congressional District, which cuts a swath from the Boise area north to the Canadian border and is largely conservative territory dotted with small towns built around timber, mining and farming.
Minnick's leader in Washington is House Speaker Nancy Pelosi, of whom McQuide says with a grin, "They would not like her. Most in the district are conservative whether they are Democrat or Republican."
Don't Miss
Of Minnick, he said, "Western Blue Dog Democrats tend to be more fiscally conservative. They want smaller government. 'Keep the government out of my life.' "
Consider the dilemma of Minnick and many other Blue Dogs from districts that tilt rightward: Many Republicans, like Griesel, applaud his efforts to scale back the Democratic health-care plan yet won't vote for him come 2010. And some Democrats see Minnick opposing the young administration and grow frustrated.
"I'm concerned about him being too conservative," psychologist Patricia Bauer said of her congressman. "I'd like him to loosen up a little more. I'm concerned that 'fiscally responsible' becomes a 'nay' vote on health care."
St. Maries is a tiny town in a small county: Benewah County backed McCain over then-Sen. Obama by nearly 2-to-1; Minnick carried the county by 139 votes.
Cheryl Halverson is the county Democratic chairwoman and says of Minnick's opposition to several key Obama initiatives, "I worry about that a little bit sometimes. But then there is a whole long list of bills where he is supporting the president. The big ones that are big money is where he is saying, 'Slow down.' "
It is an attitude reflective of the territory.
Halverson said that being fiscally conservative is a bipartisan commitment here and that being a Westerner often means a libertarian streak that leaves even many Democrats hesitant of too much involvement by the federal government.
"Even the Democrats, yeah. And a little more skeptical that some of the solutions that might work in the big cities or that might be necessary in big cities, don't work in rural areas," Halverson said. "Guns being one of them. ... This is a hunting and fishing place. People don't want to give up their guns."
During the 2008 campaign, Minnick was quoted as saying, "I own seven guns, and nobody's going to take them away from me."
Now, he told a spring town hall in the district that health care is the "900-pound gorilla" in national affairs.
Wotring is watching closely now as Minnick and fellow Blue Dogs play a critical role, raising questions about the overall cost of the legislation, how to pay for it and whether, as most Democrats insist, the plan must have a government-backed "public" insurance option to compete with private insurers.
She employs 25 workers at Bud's but says she cannot afford to provide them with health insurance.
"The majority of them are single women, single moms who don't have that prerogative to have health insurance. They can't afford it."
Wotring personally is willing to see a stronger federal hand in health care, including the public option. "I think the government needs to take over health care," is her view.
But she says she fully understands Minnick's skepticism for such an expanded government role.
"He needs to do that," she said. "Because that's what his constituents are for."
Still, based on the spirited breakfast and lunchtime political conversations here, Wotring says this of Minnick's re-election odds: "He may lose."
McQuide concurs, though he gives Minnick high marks for his fundraising and for taking positions that reflect his conservative district. But, given the district's leanings, those pluses may not be enough if next year has a traditional midterm election climate working against the party that controls the presidency.
McQuide says that rising doubts nationally about Obama's handling of the economy are magnified in a state with such GOP leanings. That and how the health-care debate turns out will be big factors in whether a Blue Dog who narrowly won in 2008 can navigate what is almost certain to be a much more difficult political climate for Democrats in 2010.
"Obama is going to be an issue, especially if there are more and more liberal components coming in. That may swing things more towards a Republican direction," McQuide said. "Next year's election here is probably going to be one of the nationally looked-at races. It's going to be an exciting race."
E-mail to a friend

All About Democratic Party • Health Care Policy