From Ed Henry, Deirdre Walsh and Brianna Keilar
CNN





WASHINGTON (CNN) -- The popular "cash for clunkers" program will continue at least through this weekend, White House spokesman Robert Gibbs said Friday.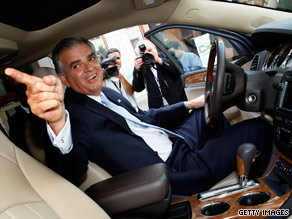 Transportation Secretary Ray LaHood gets behind the wheel of a Buick to start the incentive program this week.
Obama administration officials also are working furiously behind the scenes with congressional leaders to find extra money to extend the program, he said.
"It's up and running," Gibbs said in his office, adding that it "can, will and should" continue indefinitely.
The U.S. House of Representatives voted Friday to spend an additional $2 billion on the program. The Senate vote has not been scheduled.
Sen. Debbie Stabenow, D-Michigan, announced earlier that lawmakers were working with the White House to provide the program with more money to continue and expand it.
Under the plan, people can receive $3,500 to $4,500 toward a new vehicle when they trade in vehicles with poor gas mileage for more fuel-efficient new models.
Media reports Thursday evening suggested that the $1 billion program had been abruptly suspended because the initial funding was being exhausted more quickly than expected as consumers rushed to trade in vehicles.
But Gibbs said Friday that the administration has kept the program going and that it will be in place for anyone who had been planning to make a car purchase this weekend.

Watch more on the program and its possible extension »
"This program appears to be a success for car buyers, car dealers, car companies and taxpayers," Gibbs said. It has the added value of helping the environment by getting less fuel-efficient cars off the roads, he added.
Don't Miss
"We feel confident that we will have a solution people can agree on and the program continues," he said.
Gibbs said that the program has been "extremely popular" and that an estimated 20,000 certificates for vehicle swaps are waiting to be processed, a backlog that alarmed some government officials into thinking the money will be tapped out shortly.
A person who posted a comment on iReport.com said the program helped him get into a new Ford Escape.
"I didn't buy a car to show patriotism, I bought a car because I needed a vehicle for work that I could drive long distances to perform work at various customers' facilities; a '94 Jeep Wrangler doesn't fit that bill," iReporter Ryan165 wrote.
"With current available incentives I felt it was a great opportunity to buy new, which I think everyone can agree consequently plays a small part in helping automakers stay afloat and pull the economy out of the current recession," he wrote.

Another iReporter, who goes by the name Jayberdz, said the program is ill-conceived.
"It doesn't address the worst cars and trucks out there," Jayberdz posted. "The people who own the worst are not in a position to buy new cars or trucks. The original bill would have allowed the purchase of used cars and would have addressed the environmental issue far better."
E-mail to a friend

CNN's Eliott McLaughlin and Jim Kavanagh contributed to this report.
All About National Economy • Auto Financing