(CNN) -- The jury in the corruption trial of former U.S. Rep. William Jefferson of Louisiana began deliberating Thursday, a spokesman for the U.S. attorney's office in Alexandria, Virginia, said.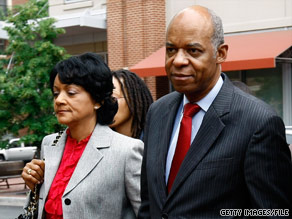 Ex- U.S. Rep. William Jefferson and his wife, Andrea, arrive at court last month in Alexandria, Virginia.
Peter Carr said court adjourned about 12:55 p.m., after jurors received instructions from senior U.S. District Judge T.S. Ellis III. The eight women and four men went to lunch, then deliberated for about 3½ hours before finishing for the day. They plan to start again at 9:30 a.m. Friday.
In June 2007, a federal grand jury indicted Jefferson on corruption charges after federal agents said they found $90,000 in his freezer. Authorities said the money was part of a payment in marked bills from an FBI informant in a transaction captured on video.
Jefferson, 62, was accused of using his office to solicit and receive more than $500,000 in bribes for himself and his family in exchange for promoting products and services to countries in Africa.
The Democrat pleaded not guilty to 16 counts of racketeering, money laundering, obstruction of justice and violations of the Foreign Corrupt Practices Act.
Carr said Jefferson could face a maximum sentence of up to 235 years in prison if convicted.
The trial began June 9 with jury selection.
Jefferson represented parts of New Orleans, Louisiana, for nine terms before losing his House seat in a December election.
E-mail to a friend

All About William Jefferson • Louisiana • House of Representatives